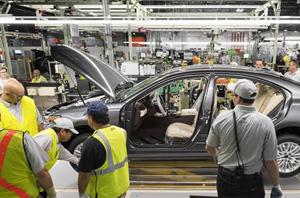 Toyota's manufacturing plant in Georgetown, Kentucky, recently received the platinum award in the 2016 J.D. Power Initial Quality Study. The award represents the highest-performing assembly plant in the world for initial quality. The facility's Lexus line, which began production last fall, tied with Toyota's Kyushu 2 plant in Japan for the award.
"This is yet another proud moment for us," said Wil James, president of Toyota Motor Manufacturing, Kentucky (TMMK). "The single most accurate and valuable tool on the Lexus line is the highly skilled, well-trained team members whose human senses help create a world-class luxury automobile. This is truly a tribute to them."
This is the 11th J.D. Power award the Kentucky plant has received since it began production in 1988. TMMK has earned four gold awards from J.D. Power, along with three silver awards and three bronze awards.
The Kentucky plant is the first in the United States to build Lexus vehicles. The line represents an investment of $360 million and 750 new jobs.
In addition to the platinum award, the Camry line located at Subaru's plant in Lafayette, Indiana, received the silver award in the North/South America category, while Motomachi 1 in Japan, which produces the Lexus GS, received the silver award in the Asia-Pacific category.
For more information, visit www.toyotaky.com.