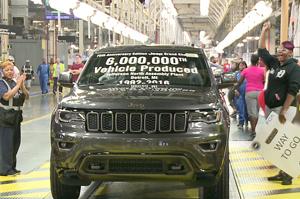 The Fiat Chrysler Automobiles (FCA) Jefferson North assembly plant in Detroit, Michigan, recently achieved a significant milestone when the 6 millionth vehicle produced at the facility – a 2016 Jeep Grand Cherokee – rolled off the assembly line.
"Reaching this milestone is a reflection of this plant's commitment to supporting the continued growth of the Jeep brand around the world and playing a role in the comeback of Detroit," said Curt Towne, Jefferson North plant manager. "Our employees are proud to be part of this unique time in the history of both the company and the city. They understand that not only are they contributing to the success of FCA US, but they are proving that Detroit will always be the Motor City."
To keep up with demand, nearly 4,500 people work at the 3-million-square-foot facility on an alternative work schedule, meaning three crews work two 10-hour shifts each day, six days a week. It takes a day-and-a-half for a vehicle to travel from the body shop, where body panels are welded together, to when the vehicle rolls off the assembly line.
One of three FCA facilities located in Detroit, Jefferson North has been manufacturing vehicles since 1992. In addition to the Jeep Grand Cherokee, Jefferson North also produced the Jeep Commander from 2005-2010 and began production of the Dodge Durango in December 2010. The plant celebrated its 5 millionth vehicle – also a Jeep Grand Cherokee – on Aug. 13, 2013.
In 2015, the plant manufactured 365,542 vehicles. Nearly 25 percent of the plant's production is shipped to 135 markets around the world.
For more information, visit www.fcanorthamerica.com.