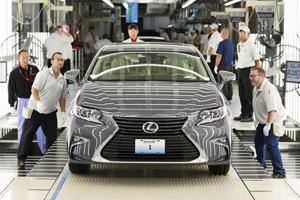 Toyota's manufacturing plant in Georgetown, Kentucky, recently began production on the Lexus ES 350, bringing the popular sedan to the American assembly line for the first time.
The company invested $360 million toward a dedicated assembly line, adding 750 new jobs. Total capacity for the new line will be 50,000 vehicles.
"Localizing Lexus production is in line with our North American production strategy and is rooted in our philosophy of building cars where we sell them," said Toyota North America CEO Jim Lentz. "The Kentucky plant is known for being one of the top vehicle manufacturing facilities in the world. With our talented team in Georgetown building our popular ES 350, we're positioned to better serve our U.S. customers now and well into the future."
To prepare to build the Lexus sedan, team members underwent 1.5 million hours of training, including trips to Japan to learn the art of Lexus craftsmanship. It also meant spending time behind the wheel of an ES, driving it on Kentucky roads and visiting dealerships to gain an understanding of customer expectations.
"Before we were chosen to build the ES, we put a plan in place to show we were capable of building Lexus before Lexus would consider coming here," said Wil James, president of Toyota Motor Manufacturing, Kentucky Inc. "That strengthened us across our plant, and as a result, we're building better cars overall."
With the addition of the Lexus units, the Kentucky plant will have capacity to build more than 550,000 vehicles a year. Total employment now stands at more than 7,500.
For more information, visit www.toyota.com.