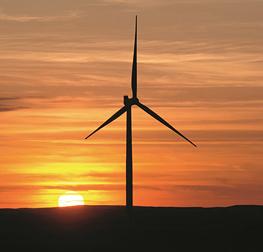 Siemens recently signed a long-term agreement with Minnesota Power to provide service and maintenance for 149 D3-platform wind turbines installed at the Bison Wind Energy Center near New Salem, North Dakota.
Under terms of the agreement, Siemens will provide 10 years of service and maintenance for the D3 turbines installed in the first three phases of the Bison Wind Energy Center, as well as Bison Phase 4, which began operations in January 2015.
The commissioning of Bison 4 this past January brought the total capacity of the Bison complex to nearly 500 megawatts, making it the largest wind energy project in North Dakota. The project delivers power via a 465-mile, direct-current transmission line that connects the Square Butte Substation in Center, North Dakota, to Minnesota Power's Arrowhead substation near Duluth, Minnesota.
"Siemens and Minnesota Power have a long history of working together, and this is a continuation of our ongoing collaboration," said Mark Albenze, CEO of Siemens Wind Service and Renewables business. "A committed supporter of renewable energy, Minnesota Power boasts the largest fleet of Siemens' D3 turbines in the U.S. We look forward to working closely with them to help with the continued reliability, affordability and sustainability of their renewable energy projects."
Siemens currently provides service and maintenance for more than 3,700 installed wind turbines in the Americas region and more than 9,000 globally, with a combined generating capacity of approximately 22 gigawatts.
For more information, visit www.siemens.com.