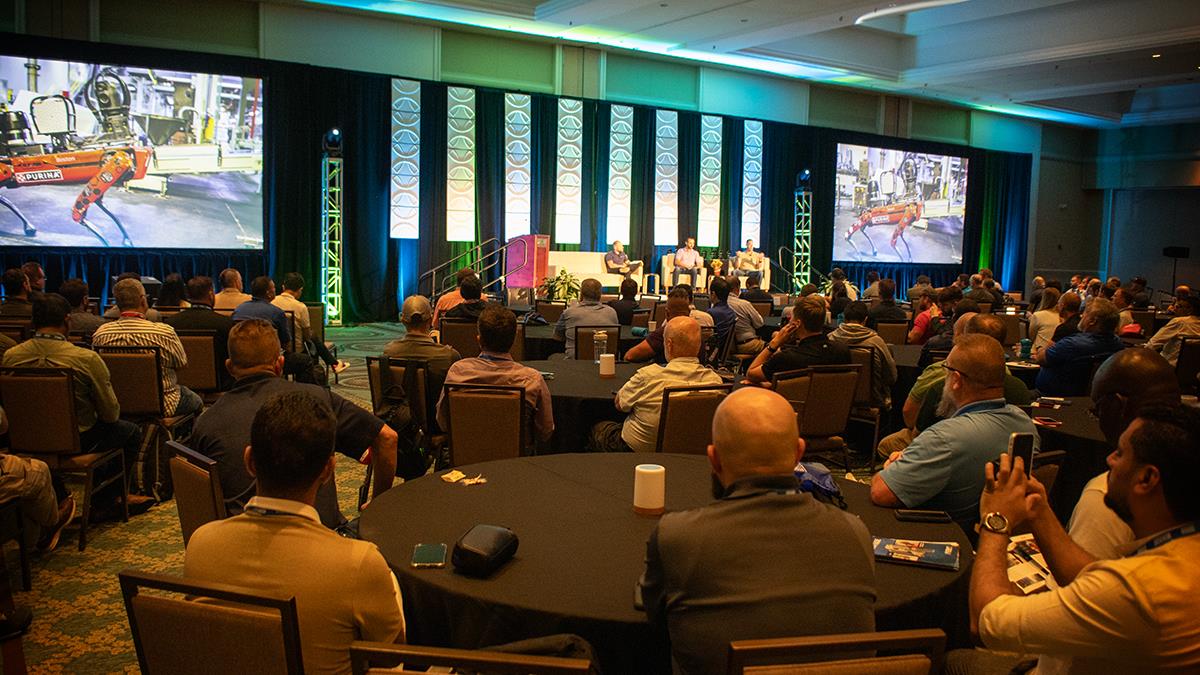 A summer visit to the Sunshine State for a second year in a row ushered in the Silver Anniversary of Noria's Reliable Plant Conference in Orlando, which kicked off on the last day of July 2023. Co-located with Machinery Lubrication Conference & Exhibition, this summer marked the 25th time Noria has played host to the conference, which features some of the biggest names and brightest ideas taking center-stage in the maintenance, reliability and machinery lubrication industries, just to name a few.
Close to 1,000 attendees from across the globe gathered in Walt Disney's backyard for a week filled with product demos, learning sessions and workshops, along with lots of shaking hands and making connections. This year's conference also outdid last year's in total attendance, bringing in more end-users to the event than in 2022. There was also a record-breaking number of exhibitors showcasing the latest solutions and technologies in mainteance, reliability, oil analsis, and IoT/IIoT.
"First time at Reliable Plant, was fantastic to be a part of a culture with the same goals as me and my company! Will be attending next year and bringing members of my team with me!"

— First-time Attendee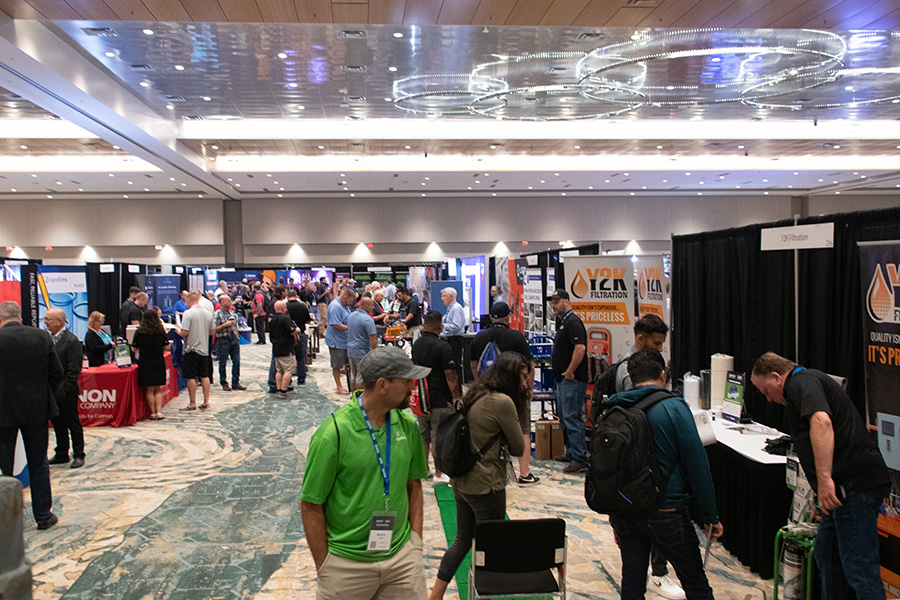 Day One: Wonders of the Workshop
As the Noria staff finished setting up everything in time for day one, Monday's focus was mainly on workshops and learning. A few notable workshops included Vibration Analysis in an Evolving Condition Monitoring Environment (Taylor Sheppard, Fluke Reliability Solutions), From Data to Decisions: Mastering Oil Analysis Report Interpretation for Improved Equipment Performance (Matthew McMahon, Eurofins Testoil), and Electric Motor Reliability — Critical Knowledge to Ensure a Healthy Motor (Noah Bethel, PdMA Corporation).
"Very effectively covered troubleshooting aspects and provided us with 10 points to conduct effective troubleshooting. It was eye-opening for me."

— Regarding R. Keith Mobley's workshop, Lessons Learned In Sixty Years Of Troubleshooting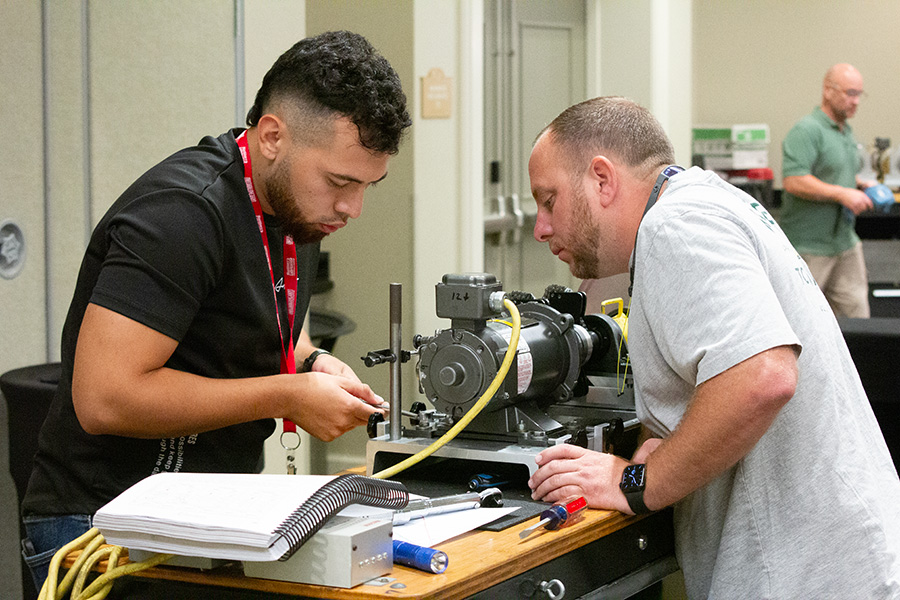 Day Two: A Sea of Sessions
Day two of RP2023 began with an opening address from a familiar face — Noria's Director of Services, Wes Cash. With his usual, softspoken, Kansas charm, Cash touched on some of the new sights and attractions of this year's conference, which included Gatorland's Alligator Alley and a little puppy therapy with Pet Rescue. A highlight of the Opening Ceremony was the announcement that the Blue Buffalo pet food facility in Richmond, IN, won the 2022 Augustus H. Gill Award for Oil Analysis Excellence from the International Council for Machinery Lubrication (ICML).
Following the presentation, Cash turned the program over to Noria's Chief Strategy Officer, Bennett Fitch, who shared key insights from the various audience personas in attendance: speakers, end users, and exhibitors.
Following the opening ceremony, it was back to workshops and the start of more than 100 learning sessions on the topics of Change & Sustainability, Work Management & CMMS, Asset Management, Condition Monitoring & IoT, Lubrication-Enabled Reliability and more. Based on attendance, the Top 10 sessions were:
How to REALLY Improve a Preventive Maintenance Program — Terry Taylor, President, Taylor Reliability LLC
Strategy Planning and Execution: Getting Maintenance Teams Pumped and Engaged — John Ross, President, Maintenance Innovators Inc. and Doug Posey, Superintendent, Packaging/Warehouse, American Crystal Sugar
Back to Basics: Applying Mountain Man Wisdom to Achieve Reliability — Shon Isenhour, Owner, Eruditio
Break Free from the Reactive Maintenance Cycle — PepsiCo's Story from Chaos to Control — Andy Gailey, Managing Director, UPTIME Consultant Ltd
Building an Effective Maintenance Job Plan — Henry Kocevar, Consultant, GTS

Where AI and Online Sensors Stand in this Digital Transformation Age — Joe Nichols, President and CoFounder, Itus Digital

Bridging the Gaps with Traditional Oil Analysis and Ancillary Condition-Monitoring Tools — Jeff Walkup, Vice President, Fluid Life Inc.

The Journey Continues: How to Achieve Lubrication Excellence Despite Adversity — Kenny Myers, Plant Engineer II, Ashland Inc. and Kevin Lockwood, Lubrication Tech, Ashland Inc

Diagnosing Hydraulic System Problems Through Filter Debris Analysis — Paul Michael, Director, MSOE Fluid Power Institute

Using Condition Monitoring to Drive Change: Reactive to Prescriptive Maintenance — Asad Malik, Director, Reliability Services, RegalRexnord
"Matthew did an incredible and thorough job covering the topic. The years of experience and hands on knowledge of oil analysis really showed through in the presentation. I'm sure he could have talked all day on specific parts, but the overall coverage of the subject was full of quality information. As an oil analysis technician I learned some new things. Thanks for taking time to teach the group!"

— Regarding Matthew McMahon's session, From Data to Decisions: Mastering Oil Analysis Report Interpretation for Improved Equipment Performance
"It was a great presentation, showing how service industries such as JLL can provide value to the customers and work with them to improve PM optimization, which can reduce cost and enhance relationships with the end user. Brandon taught audience about how they can utilize SMRP metrics and best practices when developing KPI and standardization in their process."

— Regarding Brendon Russ's session, How the Right PM Optimization (PMO) Process Will Reduce Costs and Produce Solid Results

As anticipated, IoT/IIoT was a topic of focus, spread across multiple sessions including Tuesday afternoon's panel discussion: Debunking the IoT Hype: What's Aspirational, What's Reality? Led by Jeremy Drury, Reliable Plant Advisor and Noria's resident expert in all things IoT, Drury led a panel of professionals that included Roy Giorgio of AssetWatch, Luke Stockburger of AiSight/Sensirion, Markus Larsson of Novity, and Chris Klosterman of K-IIoT. The spirited discussion was among the highest-rated sessions at this year's conference and marked a true highlight of the week.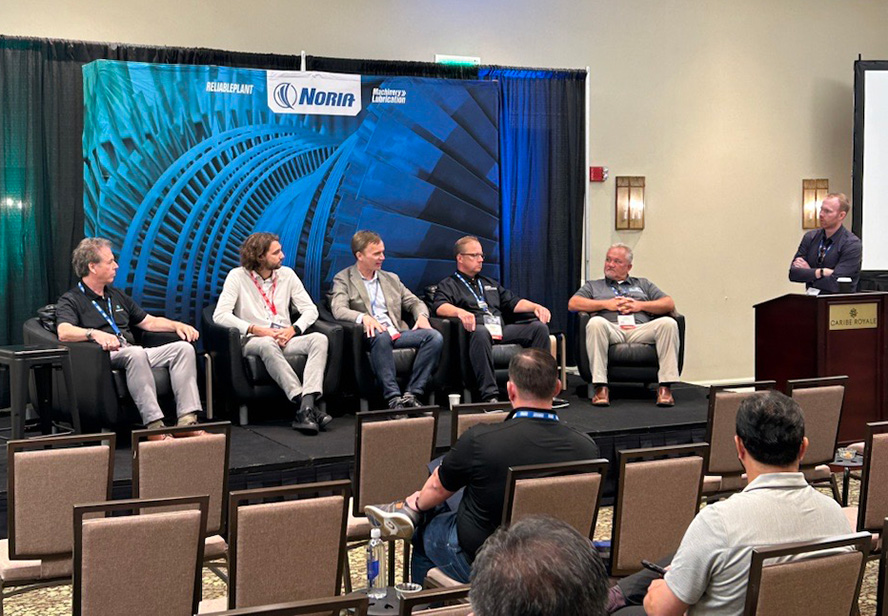 "Great presentation and very entertaining. Thought provoking topic with excellent practical recommendations."

— Regarding Jeremy Drury's session, IoT is D.O.A.
Another marquee attraction on Tuesday was undoubtedly the keynote presentation by Boston Dynamics, featuring Spot®, the one-and-only robot dog extraordinaire.
"Spot is definitely an interesting invention! A wow moment to watch it walk onto stage! A definite asset to a big company like Purina. Someday it would be interesting to watch it on site at a business."

— Regarding Boston Dynamics' keynote, Leveling Up the Way We Work with Spot®

After a full day of sessions and keynotes, attendees and staff were treated to a Meet & Greet Reception, which was held in the Exhibit Hall. The informal, laid-back setting provided attendees a chance to check out the vendor booths, network with colleagues and build new relationships — a nice, easy way to end the day on a high note. Here's just a little taste of the festivities, as experienced by our attendees, who looked to be having a blast.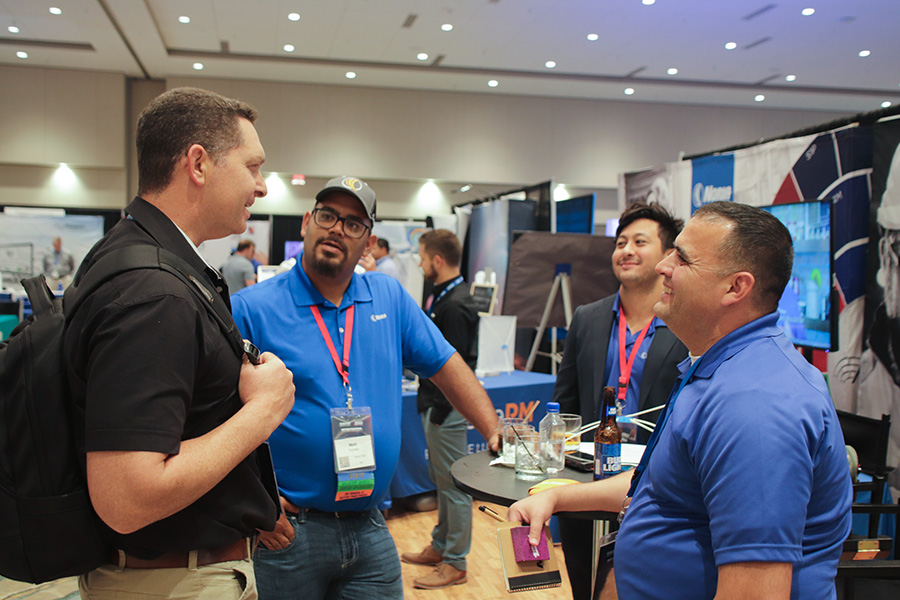 Day Three: The Show Rolls On
After salvaging a few hours of sleep, it was back to the business on day three, which featured another slate of sessions from speakers who joined Noria and friends from across the globe.

Also of note on Wednesday were keynotes given by familiar faces: Charli K. Matthews, CEO & Founder, Empowering Brands; R. Keith Mobley, Chief Scientist, Shoreline; and Jeremy Drury, IoT Consultant and Reliable Plant Advisor.
Kicking off the afternoon, Matthews spoke on "Reliability is a Behavioral Science: How Communication Style Affects Culture and Behavior".
Following Matthews, Mobley took to the Reliability Stage and shared his keynote, "Technology is a Tool, Not a Solution."
Drury rounded out the keynotes with a hot-button discussion, "IoT is D.O.A."
Other keynotes during the event included:
Don't Miss the Three Most Critical Assets in Digital Transformation — Bob Fei, President and CEO, Life Cycle Engineering, Inc.
Why is My New [EAM, APM, WM, CMMS] System Not Meeting My Needs? — Mark Bennett, Owner, Maintenance & Reliability Transformations, LLC
The Role of Leadership in Asset Management and Reliability — Michael Greenholtz, Partner, Triad Unlimited
Also on Wednesday, amidst the sea of learning sessions (and gators), A.W. Schultz, Founder and Principal Consultant, A.W. Schultz Engineering & Training, took part in a book signing.
If anyone had anything left in the tank, the glitz and glamour of Casino Night capped off the day three extravaganza. Complete with blackjack, roulette, Texas Hold'em, and one amazing 360-degree video booth, Noria sure knows how to throw a party.
Did I mention the gambling?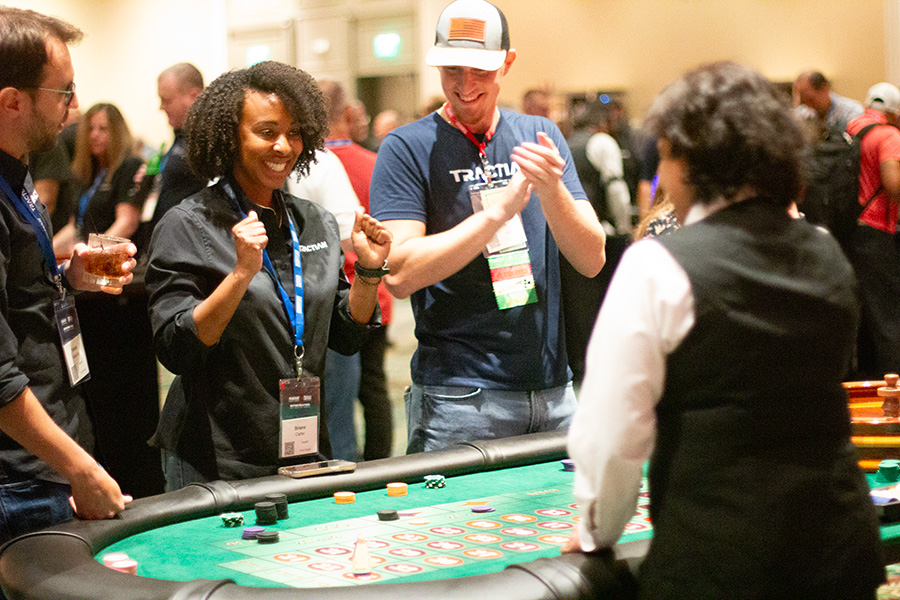 Day Four: All Good Things…
As attendees gathered on the final day of Reliable Plant 2023 to take in the last remaining sessions, Noria commemorated the event and attendees with the closing ceremony along with prize giveaways. One lucky attendee even walked away with a Lego Infinity Gauntlet that was so clean it would make Thanos jealous!
Naturally, Mr. Cash brought us all home with his closing address. Only this time, he got some help from Noria's own Gordon Sprouse and Breanna Dalrymple, who emceed the prize giveaway.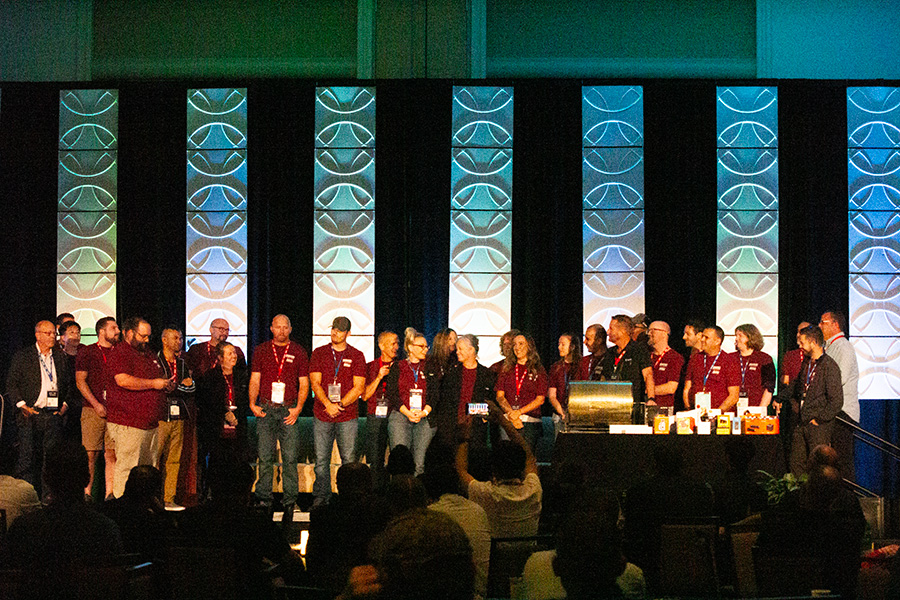 And that, as they say, was that. Another Reliable Plant Conference in the books, and this one was truly one for the ages. The week and the weather was (mostly) kind, and we hope everyone else had as wonderful a time as the Noria staff. A special thanks goes out to all our sponsors for making Reliable Plant & Machinery Lubrication Conference 2023 a memorable one!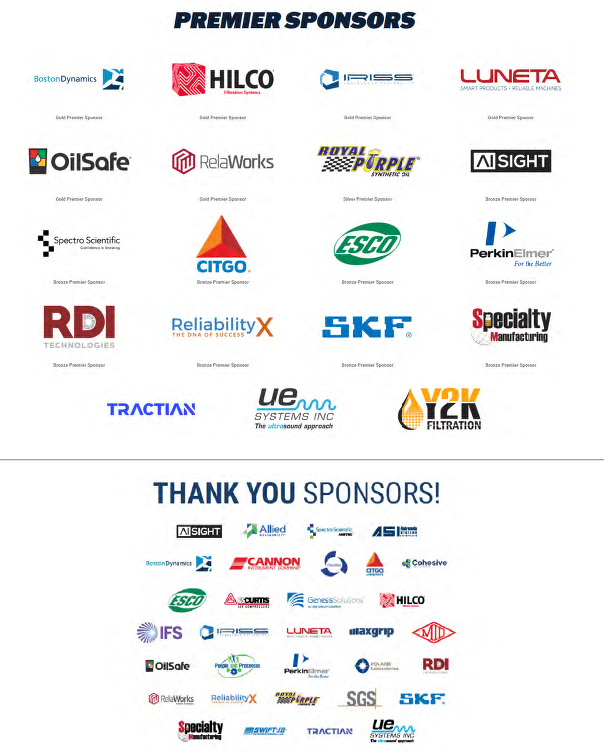 Plans are already underway for the 2024 Reliable Plant & Machinery Lubrication Conference & Exhibition in Chicago, IL. Stay tuned to the conference website for updates. We look forward to seeing you all next June!
Due to privacy, attendee testimonials do not contain identifying information.