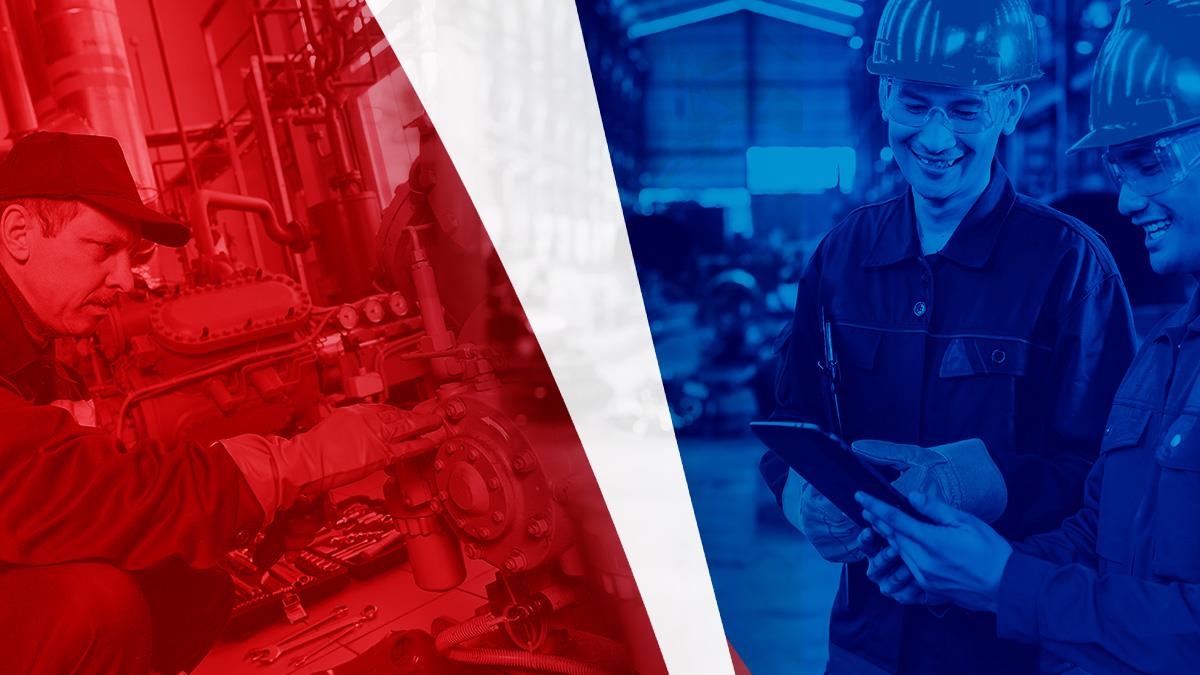 Working in a production facility that's bottom line is dictated by reactive events can be a soul-destroying experience. When I was hired to work at PepsiCo's first DORITOS® production facility in the United Kingdom, this was the exact situation I encountered.
Day after day, we were overwhelmed with reactive work orders until the time came when our only option was to change the status quo.
This is a story of reinvention and redemption for a PepsiCo plant that transformed from a reactive facility into a world-class organization known for its exceptional asset care standards.
The Reactive Maintenance Loop
As a mechanical production engineer, imagine my surprise when I was selected to become a technician team member at a new production plant but wasn't told who the job offer was from or what they produced until I received the final job offer.
The reason for the secrecy was that PepsiCo was planning to launch the first tortilla chip snack right in my hometown of Coventry, which is still the "Home of DORITOS®" in the United Kingdom.
The facility would be housed in an outmoded automotive parts logistics hub, and in total, PepsiCo would spend $20 million from 1993 to 1994 installing a complete DORITOS® wet corn process platform. This included corn silos, an oil farm, and a transfer system.
Engineers were recruited from a variety of industries, including automotive, aerospace, and even mining. I was assigned to the Technician Team where the learning curve was steep; completely new processes and working methods had to be learned quickly.
Within a few months, DORITOS® were being produced and sold to consumers with more than $9 million invested in marketing, which included giving away seven million bags of DORITOS®. By the end of our first year, we had captured nearly 3% of the United Kingdom's billion-dollar snack food market.
My first assignment was commissioning a legacy platform from another site; in effect, I was now charged with looking after an outdated and partially worn-out asset group. In addition, the entire site was in a constant state of flux, and there was little regard for asset care. When maintenance did occur, it wasn't beneficial, and with everything breaking down, we found ourselves in a reactive maintenance loop.
It wasn't until 2005 that Leadership said enough was enough. We had to make a change – and fast.
The Causes of Unplanned Downtime
As an operation, we were constantly struggling with customer supply issues. This was due to our facility's large number of unplanned outages. To resolve this, PepsiCo hired an external consultant to review our operations and identify opportunities for improvement.
Initially, the downtime pointed towards the engineering and maintenance teams. But we were too close to the problem to see the real issue. The consultant discovered that our unplanned downtime was partially caused by a lack of materials and operator training.
We also found that not only was our unplanned downtime at 12% (4% higher than what we had calculated), but our process for maintaining assets was poorly targeted, written, and executed. This meant our whole system for deploying our skilled workforce had to change.
At that time, metrics indicated 60% of engineering time was spent reacting to unplanned events, and as a result, these events dictated how our labor was utilized. Only a third of our total time was available to work on planned maintenance and corrective intervention tasks, and the tasks that were performed seemed to have little effect on our reliability. Very few condition monitoring activities took place, and when they did, they were typically performed by a third party. As a result, our backlog of maintenance tasks continued to grow.
When maintenance teams are in a reactive cycle, they become trapped by the assets they're charged with caring for. Many become adept at performing quick repairs. Unfortunately, these behaviors were often encouraged, and even rewarded, by management. Yet, we continued to wonder why reactive maintenance practices were thriving.
Transitioning from Reactive to Proactive Maintenance
Our journey to becoming a world-class facility spanned five years. The graph below depicts the reversal of our maintenance split – reactive work decreased by 50% and was displaced from processes into packaging (process is where line stoppages kill production).
70% of our maintenance hours were now dedicated to planned, proactive, and preventive maintenance. Corrective levels increased by 50% once we started delivering them during strategic windows of opportunity, such as during line shutdowns. We also began identifying these correctives using condition monitoring, which was now guiding the facility's lubrication program and application processes.
We supported these changes with technical operators, who freed up technician time. While some technicians were still assigned reactive work, the majority performed planned and corrective maintenance. I was tasked with developing condition monitoring and lubrication strategies for the facility's asset groups.
Training became a priority, and as a result, the technical operators became well aware of Total Productive Maintenance (TPM) principles. This was only possible because the engineering managers got the full support of the facility's Leadership team. From here, technician team managers, in close partnership with the operations teams, were deployed to oversee the maintenance plan's implementation.
Total Productive Maintenance
The process of using machines, equipment, employees, and supporting processes to maintain and improve the integrity of production and the quality of systems.
Source:
Reliable Plant
The operations team was assured that, with time, turnarounds would improve, assets would become more reliable, and machines would be readily available for production. The overall message to the entire team was that we all had customers to support, and it was within our power to work together to deliver outstanding uptime in a controlled environment.
To accomplish this, the engineering team began reviewing all existing maintenance tasks using Reliability Centered Maintenance (RCM). They asked themselves:
"Does this time-based task add value and support asset health?"
Reliability Centered Maintenance
A process to determine what must be done to ensure any physical asset continues to do what its users want it to do in its presenting operating context.
Source: John Moubray,
Reliability-Centered Maintenance, Second Edition
Time-based tasks can become repetitive and intrusive, leading to equipment damage. Condition monitoring can replace many of these tasks, which often fail to address or prevent functional failures.
Planning meetings were also introduced, which allowed operations and engineering teams to:
Collaborate on maintenance efforts.
Discuss line shutdowns.
Plan corrective tasks.
Agree on skills requirements, spare parts availability, and hours required to complete a task.
Communication and progress tracking were crucial to our "one team" approach. They ensured there were no surprises, which reduced our backlog and created a massive uptick in planned maintenance compliance, accountability, and visibility.
Appropriately investing funds into Repairs and Maintenance (R&M) became vital – I call it finding the "Goldilocks" level.
Prioritizing Planned Maintenance
Getting planned maintenance compliance over 90% of what you plan to do is crucial; we asked ourselves if anything backlogged for more than 30 days was worth doing. Although we never reached that 10% root cause analysis (RCA) goal, our planned versus reactive ratio dramatically improved.
I credit much of this success to our condition monitoring efforts, RCA now focused on improvements rather than reengineering after a large breakdown event. Although RCA was a crucial component, it now became a transition tool that gradually decreased over time.
The graph below compares our unplanned downtime (blue) with our plant availability (green). Gaining those 20 points in availability was achieved in increments during our five-year transition; we progressed through the development stage of people change, implementing new methods into our proactive period. We became focused on making improvements and fixing assets permanently rather than forever fixing them.
Securing a New Maintenance Budget
There are three metrics that drive most things in life and in business:
You can buy additional labor and resources if you have enough money, but you can never buy more time. These are the "Three Finites", and your aim should be to balance them.
Capital Asset Replacement Value (CARV) gauges if you've achieved the "Goldilocks" level. In the food sector, maintenance investment spending should be about 3% of the asset replacement value; if you are below this mark and have a high Overall Equipment Effectiveness (OEE), you are in an innovative stage.
By utilizing CARV as a measuring tool, our engineering lead pitched his budget to Leadership with a high level of confidence. This was crucial for our facility – we had the most diverse and complex equipment of all the United Kingdom PepsiCo facilities. One key factor to be mindful of is that CARV must be revisited whenever new assets are commissioned, otherwise, you could end up underfunded.
Conclusion
I consider myself fortunate to have been involved in this journey, and I was honored to be asked to invent the condition monitoring and lubrication plan for the entire site. I believe this was key in eliminating repeat failures, and it ultimately started my career in reliability.
The main challenge with becoming preemptive and predictive is that this process tends to operate under the radar – while reactive events naturally receive a great deal of attention, you have to shout to have your gains and successes acknowledged.
The key takeaway for me after more than 45 years in engineering is that it's the people that create success. You can have all the fancy Key Performance Indicators (KPIs) and metrics in the world, but without the right people, knowledge, teamwork, and tenacity, it's impossible to move the dial.
So, if you are planning to embark on a similar journey, be tenacious in all your endeavors.
Credit and thanks to Paul Bingley, PepsiCo Engineering & Operations Manager, 2005-2015, for clarification and corroboration.
Andy Gailey, Managing Director of UPTIME Consultant Ltd, was a featured speaker at Reliable Plant Conference & Exhibition 2023.