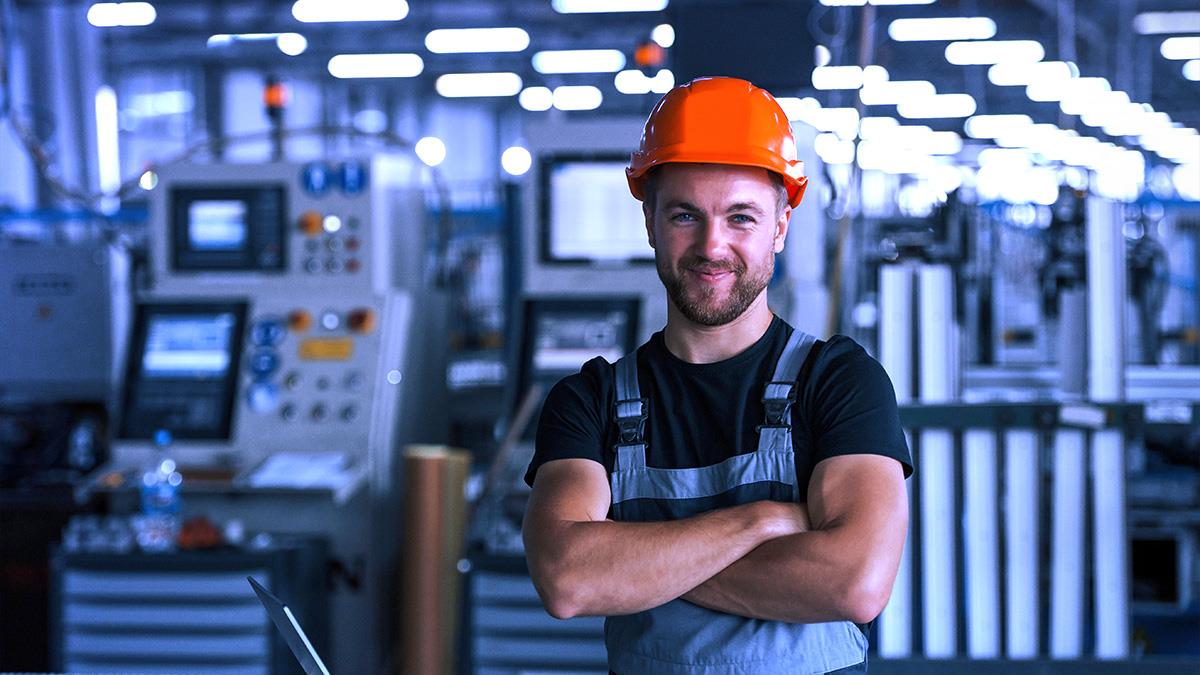 Facilities are increasing in sophistication, and their detailed maintenance and reliability requirements make it crucial to minimize mistakes. To achieve this high level of excellence and continually meet personal and facility goals, you need to be on the cutting edge of information, as it's vital to stay current and actively pursue a better understanding of what is involved in world-class maintenance. The best way to get this information and secure your place in the industry as a subject matter expert (SME) is through certification.
Why Certification is Necessary
With the wide range of abilities you are expected to master, from mechanical to communication skills, it's important to seek out knowledge to fill in any gaps you may have. Certification is an important final step in that process since it often helps provide you with the resources to continue advancing both your knowledge and your career.
Through certification, you will learn to look at a broader view of your plant's maintenance and reliability. With this paradigm shift, you will make more appropriate, informed decisions that boost the performance of the entire facility. Your enhanced understanding will also help you effectively critique and improve complex processes and procedures, discovering underlying correlations and providing valuable high-level insight.
In this way, pursuing certification helps you become an effective maintenance champion who advocates for better working and performance standards. As a champion, you have the power (and position) to make a lasting impact on plant culture, using your knowledge to effectively advocate for what your facility and team need. Certification also has a cumulative effect: the more certified employees there are in your plant, the more likely it is that the positive changes you implement will be understood, well-received and become permanent. Over time, this broad understanding of good maintenance and reliability produces a working environment where everyone sees the value of proper maintenance, skills are nurtured and company goals are met or even exceeded.
The Benefits
It's no secret that having certified team members produce significant results for a facility. The return on a training investment is typically significant and usually happens quickly, while decreased skill gaps ensure personnel does their jobs properly. But at its core, certification produces the greatest benefits for those getting certified.
First and foremost, being certified makes an excellent first impression. It automatically communicates that you are qualified, knowledgeable and committed to your field. Once it's known to peers and upper management that you are certified, you increase the likelihood that you will be considered an expert and a potential leader within your plant. As you gain the positive attention of management, you may also experience financial benefits. This includes being viewed more favorably for pay increases, performance-based bonuses and promotions.
A nationwide salary survey conducted by Machinery Lubrication magazine found that certification plays a larger role in promotions and salary increases than work experience or college degrees. In fact, certified professionals typically earn at least 10% more than uncertified members. They are also more likely to receive a job promotion, and nearly 80% of certified respondents reported receiving a yearly salary increase.
Certified individuals are also more likely to be sought out for membership and employment opportunities, both from industry organizations and hiring companies hiring both domestically and internationally. By becoming certified, you solidify your position as an expert and advocate for your advancement within the industry on a global scale.
Certification Process
When you make the decision to get certified, there are two main avenues available — through an employer or independently.
Many companies hire employees with the goal of getting them certified. They provide candidates with on-the-job training and cover the costs of the certification course and exam. This creates the opportunity for you to learn the crucial skills necessary for career success while enhancing the facility's performance. In fact, companies that offer certification sponsorship often have lower turnover rates and a more satisfied workforce than companies that don't.
If an employer doesn't offer sponsorships or if you're consulting or freelancing, certification is still an option. While you are responsible for paying for any required training and ensuring you meet all of the prerequisites, independently seeking certification can offer more freedom in selecting which route is best for your career aspirations. By choosing the certification that aligns with your goals, you effectively advocate for yourself and show future clients you are committed to your continual growth in your field.
No matter which option you choose, certification provides benefits that can't be ignored, and making the decision to get certified is the first major step in creating lasting results on the trajectory of your career and future success.
Certification Types and Organizations
Now that you've decided to get certified, the next step is to choose which certification is right for you. Many organizations provide quality certification programs for various industries and career goals. Listed below are a few of the most prominent and popular certifications available, their potential impact on your career and common industries actively looking for those certifications.
Image provided by Noria Corporation
Certified Maintenance & Reliability Technician (CMRT)
The CMRT certification is designed to evolve the knowledge, skills and abilities of entry- to mid-level maintenance and reliability technicians responsible for preventative, predictive and reactive maintenance.
Having a CMRT certification indicates that you are not only invested in furthering your own education but that you are knowledgeable about the necessary processes and procedures involved with the trade.
The CMRT tests for understanding and proficiency within four key areas:
Maintenance Practices
Preventative and Predictive Maintenance
Troubleshooting and Analysis
Corrective Maintenance
Obtaining this certification demonstrates that you have the competency to meet the demands of a multi-skilled maintenance and reliability technician. Those who obtain their CMRT can expect to experience an elevation in status or job title. New potential positions include titles such as:
Reliability Engineer
Maintenance Technician
Maintenance Supervisor
Industries with growing demand for CMRT certification include:
Food Processing and Agriculture
Automotive Manufacturing
Pulp and Paper
Government
To qualify for the exam, you must complete the application, pay all applicable fees and not have taken the exam within the last six months.
Quotes from the Experts
"While things are improving, it is not always easy to be taken seriously as a female in this industry. Achieving my CMRP not only validated that I had the knowledge and experience, but it also gave me that extra stamp of approval."
Maureen Gribble - UE Systems
Certified Maintenance & Reliability Professional (CMRP)
The CMRP certification was created for mid- to upper-level technicians and reliability professionals who are responsible for the maintenance, reliability and physical asset management of a facility. Those pursuing this certification often aspire to be in a managerial role.
The CMRP certification program serves as a benchmark for maintenance and reliability best practices and provides insight into the five core domains of knowledge:
Business and Management
Manufacturing Process Reliability
Equipment Reliability
Organization and Leadership
Work Management
This certification measures and enhances a broad scope of expertise to help you become a well-rounded leader capable of taking your facility to new levels of success, and can often result in new positions, such as:
Condition Monitoring Engineer
Facilities Supervisor
Maintenance and Reliability Manager
Industries with demand for CMRP-certified individuals include:
Aluminum Manufacturing
Power Generation
Aerospace
Government
To qualify for the exam, you must complete the application, pay all applicable fees and not have taken the exam within the last six months.
Both the CMRT and CMRP certifications are provided through the Society of Maintenance & Reliability Professionals(SMRP) and are accredited by the American National Standard Institute(ANSI).
Image provided by The Vibration Institute
Vibration Analyst
With four different levels available, the vibration analyst certification program was designed to meet the needs of all professionals, no matter their experience, and ensure they achieve the highest standards of industry knowledge.
While there are no college education requirements, you do need documented proof of formal training and your experience with machinery vibration condition monitoring and diagnostics fieldwork.
While each level has varying focuses and levels of depth, the broad categories remain consistent to promote and advance knowledge in key areas. These areas of focus include:
Vibration Principles
Condition Monitoring
Data Acquisition
Fault Analysis
By demonstrating mastery of these skills, you gain access to elevated job titles such as:
Vibration Analyst
Condition Monitoring Engineer
Predictive Maintenance Technician
Many of these crucial skills are growing in importance, increasing the demand for certified vibration analysts, especially in industries such as:
Electric Power Generation
Oil and Gas
Chemical Processing
Mining
Vibration analyst certifications are provided through the Vibration Institute, the only vibration certification program accredited by the ANSI National Accreditation Board(ANAB).
Quotes from the Experts
"In an increasingly competitive marketplace, employers and clients seek the most qualified and knowledgeable professionals. Certification validated skills and knowledge that ultimately results in better service, support, and customer satisfaction grounded in safe and effective practices."
Janine Komornick - The Vibration Institute
Certified Lubrication Specialist (CLS)
The CLS certification is a great option not only for reliability personnel wanting to earn the title of "lubrication engineer," but also for current or aspiring lubricant sales representatives. While it does cover technical aspects, the certification was developed to promote a broad understanding of how lubricants are designed and formulated, as well as how to select and maintain a lubricant to accomplish company goals.
Key aspects covered in this certification include:
Evaluating, selecting and purchasing lubricants
Conducting lubrication surveys
Developing quality assurance and using lubricant analysis programs
Troubleshooting and problem-solving lubrication issues
Achieving certification demonstrates lubricant knowledge and mastery that many companies reward. Positions that may become available through certification include:
Lubrication Engineer
Mechanical Engineer
Lubricant Sales Representative
Industries with a growing demand for CLS-certified individuals include:
Lubricant Manufacturing
Automotive Manufacturing
Oil and Gas
Chemical Production
Certified Oil Monitoring Analyst (OMA)
The OMA certification is the perfect option for mid-to-upper-level predictive maintenance professionals, such as mechanics, engineers and on-site lab personnel, who are responsible for overseeing a facility's oil analysis program. The certification ensures you have the appropriate skills and familiarity with critical concepts to perform your duties appropriately.
Fundamental topics covered in this certification include:
Sampling
Application and Test Method
Data Interpretation
Troubleshooting
Lubrication Fundamentals
Higher-level positions that you would be able to qualify for upon certification include:
Lubricant Chemist
Quality Control Supervisor
Lubricants and Reliability Manager
Industries with a special interest in OMA-certified professionals include:
Lubricant Testing
Power Generation
Agriculture
Medical Manufacturing
To qualify for the certification exam, you must have 16 hours of training in oil analysis-related courses and one year of experience utilizing oil analysis in the lubrication field.
Both the CLS and OMA certifications are provided by the Society of Tribologists and Lubrication Engineers(STLE) and are accredited through the Institute for Credentialing Excellence(ICE).
Image provided by Noria Corporation
Machine Lubricant Analyst (MLA)
The MLA is a three-level certification designed for in-plant technicians responsible for daily lubrication tasks and lubricant analysis for machine condition monitoring. With three unique levels of certification available, Levels I and II were designed with entry-to-mid-level professionals in mind, while Level III was designed for mid-to-upper-level individuals, with each level progressively building off certificants' established understanding from the previous level.
The three levels of certification are:
Level I — Addresses daily tasks such as oil changes, top-ups, oil sampling and contamination control.
Level II — Expands upon lubrication analysis and sampling and delves into sample management, on-site sample testing and diagnostics.
Level III — Covers advanced principles such as team management, sampling system design and advanced diagnostics.
While no formal education is required, you must have at least 12 months of experience in lubricant-analysis-based machinery condition monitoring and have received 24 hours of documented professional training. For more information on training requirements and certification prerequisites for each level, check out the MLA handbook.
Once certified, you can experience an elevation in status equal to your completed certification level, including titles such as:
Lubrication Technician
Laboratory Analyst
General Supervisor or Manager
Industries with a growing demand for MLA-certified individuals include:
Mining
Steel Manufacturing
Food Production
Military
Machinery Lubrication Engineer (MLE)
The MLE certification was developed for entry-to-mid-level reliability and asset management professionals responsible for the development, implementation and management of a lubrication program. After successfully obtaining this certification, you will have established your ability to design and implement, or even overhaul, an entire lubrication program from beginning to end.
The MLE certification covers lubrication program topics, such as:
Lubricant Preventative Maintenance Optimization
Inspection Program Design
Lubricant Analysis and Troubleshooting
Management and Staff Communication
While no engineering degree or certification is required, you must have at least five years of education or on-the-job training in at least one approved field, such as engineering or conditioning monitoring. For a full list of requirements and qualifying fields, visit the certification handbook.
Through certification, you can effectively demonstrate your mastery of these key concepts and position yourself for new job titles, such as:
Lubrication Engineer
Reliability and Predictive Maintenance Professional
Maintenance Supervisor or Manager
Industries where these skills are valued and sought after include:
Energy Generation
Oil and Gas
Consulting
Military
Both the MLA and MLE certifications are provided by the International Council for Machinery Lubrication(ICML) and are accredited in accordance with the International Organization for Standardization(ISO).
While every company with machinery needs lubrication experts, specific companies that prioritize the hiring and retaining of MLA and MLE-certified individuals include:
3M
Baker Hughes
Chevron
ExxonMobil
Kellogg
U.S. Steel
Weyerhaeuser
Quotes from the Experts
"Our certifications do not create expertise and proficiency, but they codify these traits, and this structure helps certified practitioners attain success more quickly, accelerating their careers and helping them to bypass years of misdirection."
Paul Hiller - ICML
Image provided by The Vibration Institute
Certified Maintenance Technician (CMT)
The CMT certification was created to provide qualification credibility for entry-to-mid-level maintenance professionals. This role is vital to consistently meet maintenance and reliability goals and establish quality standards across a facility. This certification also affirms that you have the needed knowledge to fulfill your role while affording you the opportunity to advocate for higher pay and positions.
The CMT certification offers three different levels of certification, and each covers similar themes in varying depths, such as:
Reading blueprints and schematics and using mathematics in the plant
The properties and manufacturing processes of metals
Non-metals, such as industrial chemicals
Industrial safety and health
Troubleshooting
By mastering these indispensable skills, you can qualify for elevated job roles, such as:
Reliability Engineer
Maintenance Technician
Maintenance Supervisor
Many key industries see the value in having CMT-certified individuals on their teams, including:
Mining
Textile Production
Food Production
Industrial Manufacturing
While only one prerequisite must be met, the CMT program offers a variety of ways for you to qualify for the certification, including having:
A high school diploma and three years of general industry maintenance experience.
A technical school diploma and two years of general industry maintenance experience.
Eight years of general industry maintenance experience.
Each subsequent level in the program also requires the previous level's certification to qualify.
Certified Maintenance Professional (CMP)
Created with mid- to upper-level technicians and reliability professionals in mind, those who receive CMP certification exam typically aspire to a supervisory or managerial role and have the drive to move up within the company.
While this certification does focus on advanced critical maintenance skills, it also aids in honing your soft skills, helping you communicate your knowledge in a way others can follow and learn from. By understanding how to communicate tasks, goals and feedback effectively, you can become a true leader within your facility.
Other core aspects and skills the CMP program emphasize include:
Chemical and Machinery Safety
Government Regulations
The supervisor's role in improving maintenance and performance
Spoken and written communication for supervisors
Taking corrective action with employees
Achieving certification communicates a mastery of these core skills and makes a strong case for receiving an elevated position within the company, such as:
Project Manager
Maintenance Manager
Maintenance Director
Industries where CMP certification is prioritized both for prospective and current employees include:
Oil and Gas
Industrial Manufacturing
Wind Energy
Aerospace
There are multiple options for qualifying for the certification program, but you only need one to be accepted. The options include:
Being CMT III certified
Having a high school diploma and seven years of experience, with two being in a supervisory role
Having a technical diploma and five years of experience, with two being in a supervisory role
Both the CMT and CMP certifications are provided by the International Maintenance Institute(IMI).
Image provided by Noria Corporation
Certified Infrared Thermographer
Infrared thermography focuses on non-contact, non-destructive test methods that utilize thermal imagers to detect, display and record thermal patterns.
While infrared technology is user-friendly, it isn't a simple process. The Certified Infrared Thermographer certification ensures you understand what is being inspected and how to interpret the data to recommend facility improvements that align with your company's goals.
There are three levels available, and while each one increases in its technical nature, each certification has similar knowledge categories, such as:
Infrared theory and heat transfer concepts
Equipment selection and operation
Image analysis and report generation
How to overcome or eliminate common error sources
By demonstrating your mastery of these unique skills, you can begin seeking out more elevated positions, such as:
Equipment Analyst
Reliability Technician
Maintenance and Thermography Manager
Because of their versatility and non-destructive nature, Certified Infrared Thermographers are in increasingly high demand across a variety of industries, such as:
Automotive Manufacturing
Energy Generation
Computer Technology
Aerospace
Not only are a variety of industries interested in certifications, but specific companies have begun leading the charge in seeking out certified individuals, such as
Ford Motor Company
Intel
NASA
The Certified Infrared Thermography certification is offered through The Infraspection Instituteand is accredited with ISOand The American Society for Nondestructive Testing(ASNT).
Conclusion
With technology and processes continually developing and evolving, it's our responsibility to ensure we're keeping up with industry demands. Certification reveals a world of opportunity, and by being on the cutting edge of information, you solidify your position as an expert and secure a future of your own making.
A very special thanks to the associations and their representatives who provided valuable information and insight into the world of certifications and the industries that support them.
Maureen Gribble with UE Systems
Paul Hiller with the International Council of Machinery Lubrication
Janine Komornick with The Vibration Institute
Jim Seffrin and Patty Stricker with The Infraspection Institute