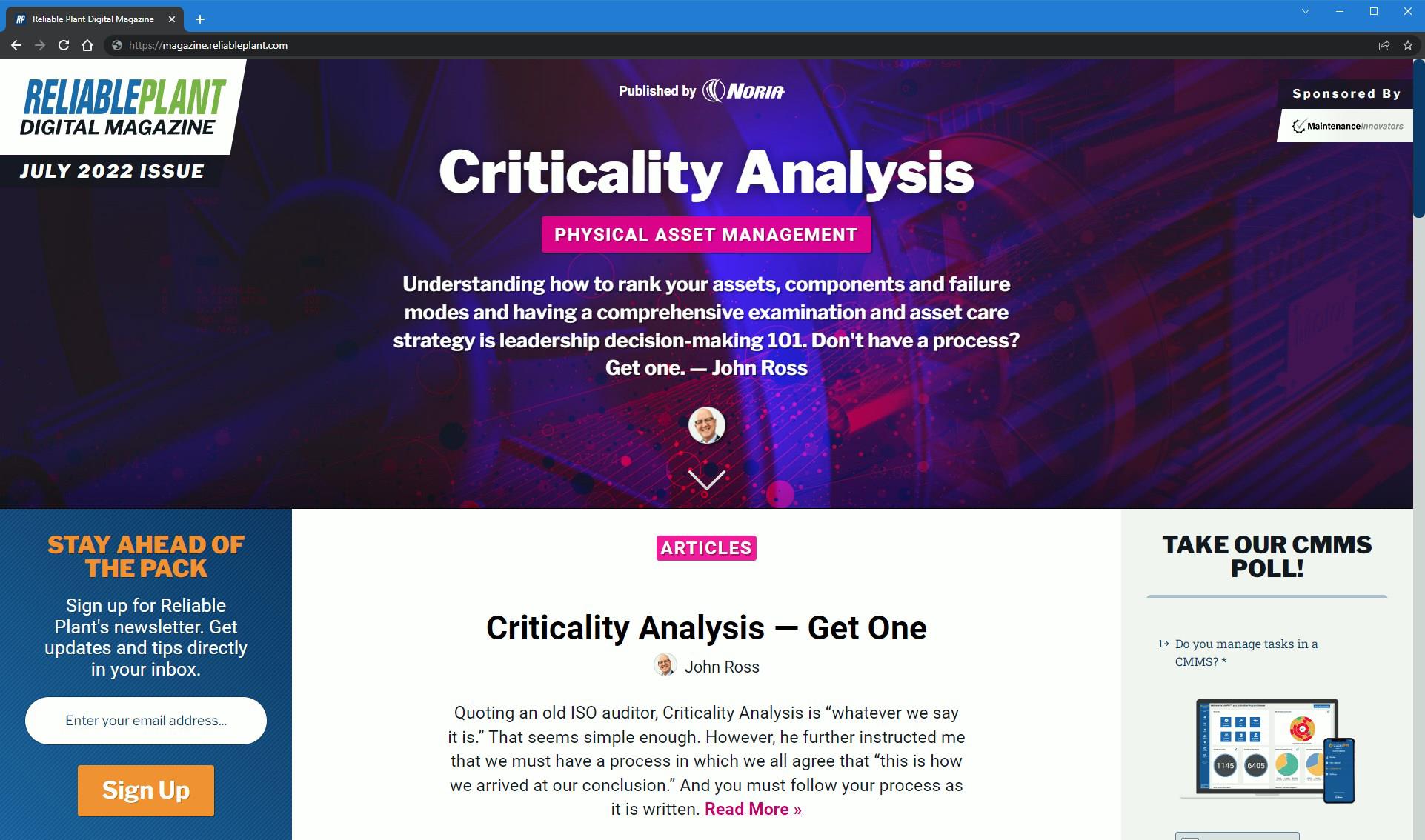 Welcome to the new Reliable Plant Digital Magazine. Since its launch in 2005, Reliable Plant's mission has been to inform and educate the people who depend on the health, productivity and performance of their plant's assets. The positive feedback from readers of both Reliable Plant and our sister magazine Machinery Lubrication has motivated us to keep innovating and bringing you new content. We're relaunching this publication in 2022 in a digital form to connect with more industry professionals by providing interactive content and actionable takeaways and improving reliability at every level.
To ensure that we deliver the most helpful and relevant information available, this new digital magazine is built on a framework of twelve Reliability Departments that cover the entire breadth of the field:
Physical Asset Management

Leadership and Communication

Workforce Development

Change and Sustainability

Asset Reliability

Maintenance Optimization
Condition-monitoring Strategies

Root Cause Analysis

Work Management

Environment, Health and Safety (EHS)

Data Analytics and Machine Health

Emerging Trends, Practices and Technology
We've assembled a team of twelve industry experts into the Reliable Plant Board of Advisors, with each advisor overseeing one of the departments and providing valuable content in the form of articles, videos, worksheets and more. The content of Reliable Plant Digital Magazine will focus on ways to increase equipment uptime and overall effectiveness, promote proper planning and cross-functionality, reduce waste, increase efficiency and overall create a more reliable plant.
With Reliable Plant Digital Magazine, you'll see some new things. We hope to expand reader engagement, as we have found that some of the best advice and information come from those in the field — people like you who work in the plants and understand the day-to-day challenges that come with the job. We want to hear from you: share your experience and knowledge, ask questions to our industry experts or let us know what you'd like to see in future issues.
We're also tying the Reliable Plant Digital Magazine closely with our annual Reliable Plant Conference. The experts you see and read in Reliable Plant Digital Magazine will be the same experts you can seeonstage at our conference (join us at the conference, and you'll likely get a chance to pick their brains).
This month's issue focuses on criticality analysis as part of the Physical Asset Management Reliable Plant Department. In this issue's feature article, industry expert John Ross does a deep dive on criticality analysis, explaining the "how's" and "why's;" he further explores criticality analysis in the companion video. Former plant manager Joe Kuhn applies theory to practice and evaluates criticality analysis — watch his video to see if the process is needed in your plant. Finally, this issue features a criticality analysis risk matrix exercise. Download and print this resource to get started on the criticality analysis process.
What follows is our editorial calendar for the remainder of 2022. Take a look, and if you have unique insights, questions, or are interested in contributing content about these upcoming topics, reach out at hbeeson@noria.com
August
— Leadership and Communication with Tor Idhammar
September
— Workforce Development with Alejandro Trujillo
October
— Change and Sustainability with Joe Kuhn
November
— Asset Reliability with Ryan Chan
December
— Maintenance Optimization with Bill Barto