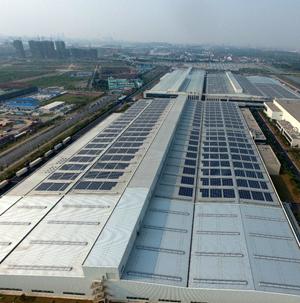 General Motors (GM) recently committed to generate or source all electrical power for its 350 operations in 59 countries with 100-percent renewable energy by 2050.
"Establishing a 100-percent renewable energy goal helps us better serve society by reducing environmental impact," said Mary Barra, GM chairman and CEO. "This pursuit of renewable energy benefits our customers and communities through cleaner air while strengthening our business through lower and more stable energy costs."
This new renewable energy goal, along with the pursuit of electrified vehicles and efficient manufacturing, is part of the company's overall approach to strengthening its business, improving communities and addressing climate change. GM is also joining RE100, a global collaborative initiative of businesses committed to 100-percent renewable electricity.
In 2015, GM required 9 terawatt hours of electricity to build its vehicles and power its offices, technical centers and warehouses around the world. To meet its new renewable energy goal, GM will continue to improve the energy efficiency of its operations while transitioning to clean sources for its power needs.
Currently, GM saves $5 million annually from using renewable energy, a number it anticipates will increase as more projects come online and the supply of renewable energy increases. In addition, the company anticipates costs to install and produce renewable energy will continue to decrease, resulting in more bottom-line returns.
The new renewable energy commitment builds on GM's previous goal to promote the use of 125 megawatts of renewable energy by 2020. The company expects to exceed this when two new wind projects come online later this year to help power four manufacturing operations.
"This bold and ambitious commitment from General Motors will undoubtedly catch the attention of the global automotive industry," said Amy Davidsen, North America executive director at the Climate Group. "GM has already saved millions of dollars by using renewable energy, and like any smart business that recognizes an investment opportunity, they want to seize it fully. We hope that through this leadership, other heavy manufacturing companies will be inspired to make the switch, too."
GM is in the process of adding 30 megawatts of solar arrays at two facilities in China. Its Jinqiao Cadillac assembly plant in Shanghai will feature 10 megawatts of rooftop solar arrays and 20 megawatts of solar carports, which will cover 8,100 parking spaces at the company's vehicle distribution center parking lot in Wuhan.
GM has been using renewable energy for more than 20 years, saving $80 million to date. The company has 22 facilities with solar arrays, three sites using landfill gas and four that will soon benefit from wind. This experience will help GM scale renewable energy use to all facilities globally.
For more information, visit www.gm.com.