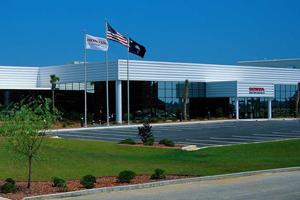 Honda of South Carolina Mfg. (HSC) recently announced a new 115,000-square-foot expansion and innovation project designed to meet growing demand for Honda side-by-side vehicles produced exclusively at the company's plant in Timmonsville, South Carolina. The $45 million investment is expected to result in the creation of 250 new jobs, which the company has already begun to fill.
"With the continued rapid growth of the side-by-side market, Honda is focused on creating an even more flexible and efficient production facility to meet that increasing customer demand," said Gary Mabrey, president of Honda of South Carolina Mfg. "The step-by-step growth of our operations in South Carolina is really a testament to our outstanding associates and the great products they create for our customers every day."
HSC is the exclusive global producer of Honda Pioneer side-by-sides, including the 500, 700 and 1000 series models. Over the past five years, Honda has invested $93 million and added more than 150 new jobs in South Carolina related to side-by-side production.
The expansion and innovation project will enable HSC to meet increasing demand in the evolving side-by-side market by improving manufacturing efficiency, parts flow and logistics. The expansion will include paint, weld, final assembly and material service areas.
As part of the expansion strategy, Honda will consolidate assembly of small and medium displacement engines currently conducted at HSC to its Kumamoto factory in Japan, where large displacement engines are already produced. The move will provide the space needed within the South Carolina plant for expanded production of side-by-side products. HSC associates currently engaged in powertrain assembly operations will transfer to other responsibilities within the plant.
For more information, visit www.honda.com.