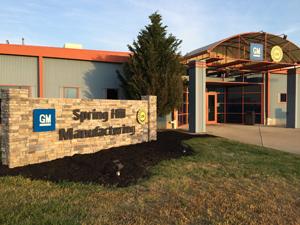 General Motors (GM) will invest $788.7 million for an all-new, high-efficiency engine program, as well as projects to modernize the vehicle programs at its manufacturing plant in Spring Hill, Tennessee, creating 792 jobs and retaining 16 positions. The company also announced a $118-million investment at its Powertrain facility in Bay City, Michigan, creating 29 jobs and retaining 67 positions. Construction will begin in May and last several years.
Since 2010, GM has announced investments of more than $2 billion for the Spring Hill operations. This includes a $148-million investment announced in February to repurpose flexible machining and assembly equipment to build V8 engines.
"This investment will help GM and our workforce continue to put the customer at the center of everything we do, providing them with powertrain solutions to meet their changing needs," said Arvin Jones, GM North America manufacturing manager. "Today's announcement reinforces our absolute faith in this facility, and our strong commitment to this community and the state of Tennessee."
Spring Hill Manufacturing opened in 1990 and produced Saturn vehicles until March 2007. It manufactured the Chevrolet Traverse from September 2008 until November 2009, and the Chevrolet Equinox from September 2012 until October 2015. Currently, the site operations consist of a flexible vehicle assembly plant producing the Cadillac XT5 and the GMC Acadia, an engine plant making four-cylinder engines, a stamping plant, a body shop, a paint shop and two polymer injection molding operations. The complex will begin building small-block V8 engines by the end of 2016.
Bay City Powertrain manufactures engine components used in Chevrolet, Buick, GMC and Cadillac vehicles. The plant opened in 1892 as National Cycle Manufacturing Company and was added to the General Motors portfolio in 1918. With this latest investment, GM has invested or will invest $249.4 million in Bay City Powertrain since 2010.
For more information, visit www.gm.com.