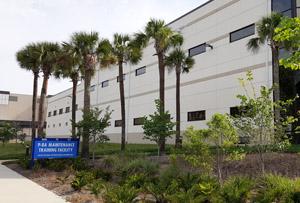 The U.S. Navy recently opened a new maintenance training facility at its Naval Air Station in Jacksonville, Florida, for those maintaining the P-8A Poseidon aircraft.
The facility is equipped with a suite of interactive training systems to help fully integrate the aircraft into the Navy's fleet. The virtual maintenance training devices provide interactive, high-fidelity simulations based on actual mission systems software, while the hardware-based trainers are full-scale replicas of aircraft components.
Navy maintainers will learn more than 1,000 procedures using seven virtual maintenance trainers, 14 hardware-based devices and an ordnance load trainer. The realistic training speeds familiarity with the aircraft and its systems, enabling maintainers to quickly become proficient in both preventive, corrective and diagnostic tasks.
"Our new P-8A maintenance training facility will provide the fleet with qualified technicians equipped with the skills and knowledge needed to keep the P-8A aircraft flying for many years to come," said Robert Powden, department head of the U.S. Navy's P-8A maintenance training unit.
Boeing was awarded the Navy contract in 2014 to provide the facility's training equipment. The company also designed the P-8A aircrew training devices, electronic classrooms and courseware for the Navy's Integrated Training Center, which is located at the Naval Air Station in Jacksonville.
For more information, visit www.boeing.com.