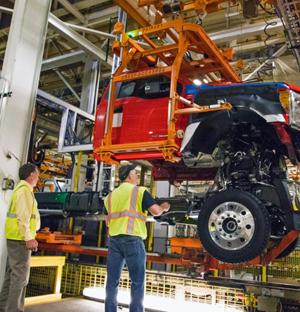 Ford Motor Co. recently announced that it is investing $1.6 billion to upgrade two of its manufacturing facilities in Michigan and Ohio.
The $1.4-billion investment in the Livonia Transmission Plant and the $200-million investment in the Ohio Assembly Plant will create or retain 650 hourly jobs and are part of the $9-billion commitment the company made in the 2015 UAW-Ford collective bargaining agreement to continue investing in its U.S. plants.
Ford has invested $12 billion in its U.S. plants and created a total of nearly 28,000 U.S. jobs in the past five years.
"We are proud that Ford employs more hourly workers and builds more vehicles in the United States than any other automaker," said Joe Hinrichs, Ford president. "We are committed to manufacturing in the United States, as we have been for more than 100 years."
Ford's latest investment creates or retains 500 hourly jobs in Michigan at the Livonia Transmission Plant to build a new 10-speed transmission to be first introduced in the all-new F-150 Raptor and certain F-150 models. The investment and 150 hourly jobs at the Ohio Assembly Plant, located in Avon Lake, will be used to build Super Duty chassis cabs.
Ford has committed to 2,800 U.S. jobs in the past five months and to a total of 8,500 hourly jobs in the U.S. during the next four years in communities across Michigan, Illinois, Kentucky, Missouri, New York and Ohio.
"I am thrilled that through our collective bargaining with Ford we were able to secure a substantial investment for the communities of Southeast Michigan and Northeast Ohio," said Jimmy Settles, UAW vice president. "The men and women of both Livonia Transmission and Ohio Assembly have shown a great commitment to manufacturing quality products, and we look forward to their continued success."
Employing more than 1,550 people, the Livonia Transmission Plant builds a six-speed transmission that is used in a number of products, including the Mustang, F-150, Transit and Expedition. Production begins in June for the new 10-speed transmission.
The Ohio Assembly Plant employs more than 1,650 people. It began building the F-350, F-450 and F-550 Super Duty chassis cab configurations earlier this year. The plant also produces the Ford F-650 and F-750, as well as the Ford E-Series cutaway vans and stripped chassis.
For more information, visit www.corporate.ford.com.