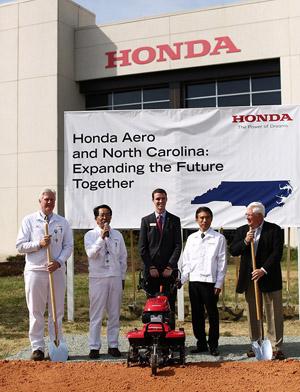 Honda Aero Inc. (HAI) recently announced that it will expand its plant in Burlington, North Carolina, to increase manufacturing flexibility and production capability for the HF120 light-jet engine.
The new $21-million, 50,000-square-foot facility expansion will create 20 to 30 new jobs over the next few years. HAI expects to complete the addition by early 2017.
"Honda Aero is very excited to expand upon the strong foundation we have established in North Carolina and increase our production capabilities," said Atsukuni Waragai, Honda Aero president. "This facility will give us increased flexibility and capacity to continue providing the very best products and services for our customers."
HAI currently produces the HF120 engine for GE Honda Aero Engines, building and servicing the engine that powers the HondaJet at its Burlington facility. HAI is also the official maintenance repair and overhaul facility for the HF120 engine, featuring a state-of-the-art test cell and parts warehousing.
"In addition to being an important day for our business, this is another big step for our Honda Aero associates, as we continue to grow and mature our aviation manufacturing capabilities in Burlington," said Tony Brandewie, vice president of Honda Aero. "As the footprint of our operation expands, so does our partnership with the local community, especially with the Burlington-Alamance Airport Authority, which has been instrumental in supporting our business."
For more information, visit www.honda.com.