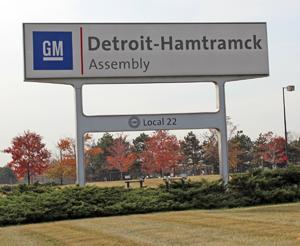 General Motors (GM) recently announced that it will be nearly doubling its workforce at the Detroit-Hamtramck assembly plant by adding a second shift and more than 1,200 hourly and salaried jobs.
The addition of a second shift will increase the plant's workforce to approximately 2,800 people when hiring is completed. The second shift is necessary to meet forecasted market demand for the five cars produced at Detroit-Hamtramck.
"This is the result of the award-winning vehicles Detroit-Hamtramck produces and the confidence GM has in our team to build world-class quality for our customers," said plant manager Gary West.
Second shift hiring is already underway. The shift is scheduled to begin operations in early 2016.
"The workforce at Detroit-Hamtramck is second to none," said Don LaForest, local shop chairman. "We appreciate the opportunity to expand our UAW-GM family."
Over the last six years, GM has invested $1 billion in the 4.1-million-square-foot Detroit-Hamtramck assembly plant, which opened in 1985.
The plant currently builds the Chevrolet Volt, Impala and Malibu as well as the Cadillac ELR on a single production line. The plant will begin production on the Cadillac CT6 in early 2016.
For more information, visit www.gm.com.