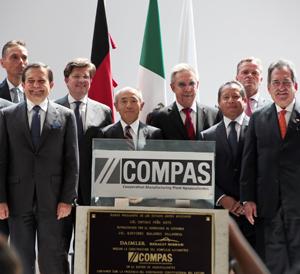 Daimler and the Renault-Nissan Alliance recently broke ground on a new joint-venture manufacturing complex in central Mexico, which will build premium compact vehicles for the Mercedes-Benz and Infiniti brands.
The partners will invest a total of $1 billion in the joint venture and oversee the construction and operation of the state-of-the-art manufacturing plant.
"Today marks an important milestone for the partnership between Daimler and the Renault-Nissan Alliance," said Markus Schäfer of Mercedes-Benz. "This new joint plant will help both partners to serve their respective customers faster and with more flexibility."
Located near the Nissan Aguascalientes A2 plant, COMPAS (Cooperation Manufacturing Plant Aguascalientes) will have an initial annual production capacity of more than 230,000 vehicles and will create about 3,600 direct jobs by 2020. The plant is also expected to generate some 12,000 indirect jobs. Depending on the market development and customer demand, there will be the potential to add additional capacity.
"This new plant represents yet another example of the growing collaboration between the Renault-Nissan Alliance and Daimler," said Jose Muñoz, executive vice president at Nissan Motor Co. "Mexico is a global benchmark for quality and efficiency, and is a major reason why Daimler and Nissan have decided to produce the next generations of premium compact cars for Mercedes-Benz and Infiniti here in Aguascalientes."
Production of Infiniti vehicles will begin in 2017, while the first Mercedes-Benz vehicles will roll off the line in 2018. Daimler and the Renault-Nissan Alliance will closely collaborate at every stage of the product creation process. Brand identity will be safeguarded as the Mercedes-Benz and Infiniti vehicles will clearly differ from each other in terms of product design, driving characteristics and specifications.
Daimler and the Renault-Nissan Alliance will also produce premium compact cars at other production locations around the world, including Europe and China.
For more information, visit www.daimler.com.