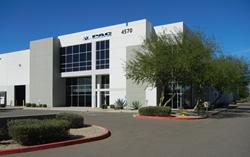 Protective packaging manufacturer PAC Worldwide recently opened a second manufacturing location in the United States with a new plant in Phoenix. The privately held company based outside of Seattle also has manufacturing and distribution facilities in Ohio, Mexico and Malaysia.
"PAC is excited to expand manufacturing to the West Coast," said James A. Boshaw, president and CEO of PAC Worldwide. "We see fantastic opportunities in protective packaging and small parcel mailers for a wide range of customers and industries. Our plant in Phoenix puts us in a position to best serve those opportunities and provides a foundation for future growth."
With more than 700 people currently employed at its facilities, PAC Worldwide plans to grow with the addition of more than 50 jobs in the new Phoenix plant.
"The quick access to California creates an advantageous market for manufacturing, coupled with a large talented, technical labor force and pro-business environment found in Greater Phoenix," noted Chris Camacho, president and CEO of the Greater Phoenix Economic Council. "We join the city of Phoenix in welcoming PAC Worldwide to the region and look forward to seeing their growth within the market."
For more information, visit www.pac.com.