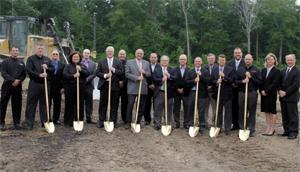 Sawmill manufacturer Wood-Mizer recently broke ground on a new facility in Batesville, Indiana.
The manufacturing plant, which is scheduled for completion in December 2015, will produce Wood-Mizer's line of portable sawmills, industrial sawmills and wood-processing equipment.
The new facility replaces the company's current sawmill manufacturing plant in New Point, Indiana, and will bring 120 jobs to the area while creating 15 additional job opportunities for the community.
"It was a priority for Wood-Mizer to build our new manufacturing plant in southeast Indiana, and we are blessed to have the cooperation of the city of Batesville along with expertise from American Structurepoint and Maxwell Construction in order to make that happen," said Wood-Mizer chief operating officer Darryl Floyd. "Our new facility will allow Wood-Mizer to continue to meet the global demand of our products and be a strategic member of the business community."
The 77,000-square-foot plant will initially consist of 69,000 square feet of manufacturing space with 8,000 square feet of office space and will be designed to allow for future expansions.
Headquartered in Indianapolis, Wood-Mizer has been a leading manufacturer of portable band sawmills for more than 32 years.
For more information, visit www.woodmizer.com.