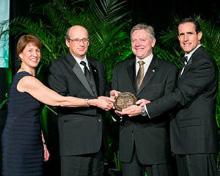 The National Safety Council recently presented Owens Corning with the Green Cross for Safety medal at its 15th annual fundraising dinner in Atlanta. The dinner honored Owens Corning for its steadfast commitment to improving safety and health in the workplace and beyond.
"Receiving the Green Cross for Safety medal honors the dedication of all of our employees," said Michael H. Thaman, Owens Corning chairman and CEO. "We lead from safety, which means our ability to execute on safety is a primary indicator of how we perform as a company."
Owens Corning is currently on a journey to zero injuries, which has resulted in 95 percent of its injuries being eliminated over the past 10 years.
"It is an honor for the Council to recognize Owens Corning with the Green Cross for Safety medal," said Jeff Woodbury, National Safety Council board chairman. "Owens Corning exhibits safety leadership at all levels of the organization and demonstrates its commitment to safety by building successful partnerships to save lives and prevent injuries."
Past recipients of the Green Cross for Safety medal include Exxon Mobil, Dow Chemical, Exelon Nuclear, FirstGroup, Delta Air Lines, UPS, DuPont, Liberty Mutual Group, Chrysler Group of DaimlerChrysler, Ryder System Inc., Intel Corporation and AK Steel.
Founded in 1913 and chartered by Congress, the National Safety Council is a nonprofit organization whose mission is to save lives by preventing injuries and deaths at work, in homes and communities, and on the road through leadership, research, education and advocacy.
For more information, visit www.nsc.org.