In most established markets around the world, soft drinks rank first among manufactured beverages, surpassing even milk and coffee in per capita consumption. With product demand continuing to increase, soft drink manufacturers have shifted to faster, more automated machinery. However, as production lines become faster and more complex, many plants are struggling to keep maintenance costs in check. This was precisely the problem that managers at Pepsi Bottling Group's Detroit facility battled for several years.
Pepsi Bottling Group is the world's largest manufacturer, seller and distributor of Pepsi-Cola beverages. With annual sales of nearly $11 billion, the company's fastest growing segment is non-carbonated beverages, including the number one brand of bottled water in the U.S., Aquafina, as well as Tropicana juice drinks and Lipton Ice Tea. As part of a 24/7 production operation, the company's Detroit plant ships about 27 million cases per year.
Production at the plant begins as empty bottles are unloaded from trucks via conveyor and transported to a depalletizer. From there, they are, rinsed, dried and sent to a filling machine (filler speeds at the plant vary based on bottle size, ranging from 350 to 1,000 bottles per minute). The bottles leave the fillers and make their way to a packaging machine, and then to a palletizer. Each pallet is wrapped for distribution and moved to the warehouse for shipping.

The challenge
While controllers and software are the brains behind any production operation, sensors play a critical role as the eyes and ears. The plant uses a variety of sensors to monitor bottles as they travel through the sequence of steps and to manage the flow to the individual stations. Line sensors match the speed of the conveyor (controlled by variable speed drives) to the precise spacing needed for accomplishing each production step. However, these sensors became a significant issue for the plant over the years.
Like many high-volume manufacturing plants, Pepsi's primary focus is on quality and productivity, with less attention given to issues like parts inventory and technology migration. As a result, the company's inventory of sensors swelled over the years to include more than 120 different varieties. Many of these included multiple styles of the same product stocked under different brands. A similar problem was developing with its drives inventory, which had grown to over 50 different part numbers.
The wide variety of sensors made it progressively more complex and time-consuming to replace a faulty device. Despite its fast, high-performance machinery, the increasingly lengthy and more frequent downtime was beginning to impact the company's ability to meet its productivity goals. In addition, operating costs were on the rise due to the excess spares inventory.
"Because of the extensive number of sensors we had in inventory, including multiple styles and brands, simply finding the right replacement could result in an hour of downtime," said Tony Yanora, maintenance manager, Pepsi Bottling Group. "We had a lot of specialized sensors that we didn't really need which increased our inventory costs and made it a nightmare for our technicians to make repairs – if we even had the right parts in stock."
A more strategic approach to maintenance was necessary, as even the smallest of delays could cost the plant thousands of dollars in lost production and overtime. Knowing that effective parts management and fast, reliable equipment repair lies at the heart of efficient manufacturing, the company explored ways to get its inventory and maintenance processes under tighter control. That's when it decided to turn to Rockwell Automation for help.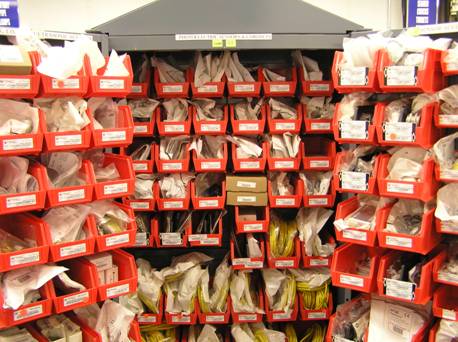 The Pepsi Bottling Group's Detriot plant reduced its number of sensors from 180 to 46, a decrease of 66 percent, by standardizing it sensors inventory to Allen-Bradley products. This reduced downtime and inventory costs.
The solution
The first task undertaken by Rockwell Automation was to conduct an Installed Base Evaluation – a plant-wide inventory assessment to determine the exact number of sensors and drives the plant currently had in stock. Next it needed to figure out what products were actually needed and which ones could be eliminated. To streamline its operation, Rockwell Automation recommended that Pepsi standardize its entire sensors inventory on Allen-Bradley products. The local distributor, McNaughton-McKay Electric Company (Mc & Mc), helped design a migration plan to help ease the cost of this inventory conversion.
Although all the drives employed at the plant were Allen-Bradley brand, many were older models representing a multitude of drive families. To simplify its drives inventory and upgrade its technology at the same time, Pepsi converted all of its drives to the Allen-Bradley PowerFlex family of AC drives. A detailed cross-reference chart developed by Rockwell Automation now provides technicians with a quick and easy way to identify failed and replacement parts, as well as installation instructions.
To ensure reliable availability to spare parts, Pepsi set-up a Rockwell Automation Services Agreement that included parts management. With the agreement, Pepsi pays a fixed monthly cost for their spare parts, which are owned and managed by Rockwell Automation but stocked on-site. The agreement allows Pepsi to reduce its upfront expenses, have immediate access to spares, reduce carrying costs, and update its control technology cost-effectively. The agreement also includes an in-service warranty, so the parts don't go out of warranty until they are actually used for the warranty period.
To help the company better utilize its internal resources and reduce costly troubleshooting delays, the Rockwell Automation Services Agreement included TechConnect Support. This remote support service provides the plant with 24/7 access to Rockwell Automation technical specialists. When a problem occurs, Pepsi technicians can call for immediate troubleshooting assistance to resolve it as quickly as possible. To help facilitate problem resolution, Rockwell Automation technical specialists can also perform remote system diagnostics through an Allen-Bradley modem installed at the Pepsi facility.
"When you're operating a high-speed bottling line, one thing you definitely need is support," Yanora said. "By allowing Rockwell Automation to assume responsibility for our parts management and relying on their around-the-clock support services, we're able to focus on productivity and uptime, which speaks directly to the bottom line."
As part of the Rockwell Automation Services Agreement, and to help the plant effectively migrate its Operator Interface systems, Pepsi utilized Operator Interface Conversion Services from Rockwell Automation. The service included a review of the plant's goals, site requirements and existing HMI inventory, followed by a detailed plan to convert the existing hardware and software code. This helped Pepsi minimize risk and reducing long term costs.

The results
Leveraging Rockwell Automation Services & Support has proved to be a smart decision for Pepsi Bottling Group. The improved inventory and parts management capabilities helped reduce downtime and inventory costs, and standardizing on Allen-Bradley products eased training requirements and minimized the technology learning curve. These benefits have ultimately enhanced productivity by 8 percent and reduced the overtime required to fill orders. In addition, the plant was able to reduce the number of sensors it uses from 180 to 46, a decrease of 66 percent. Likewise, it was able to reduce the number of drive styles from several hundred to 14.
"Most importantly, unplanned downtime no longer keeps us awake at night," Yanora said. "With the focus on strategic maintenance Rockwell Automation brought to us, this plant has become one of the most efficient, productive and advanced in the Pepsi Bottling Group."
Additionally, Pepsi's Rockwell Automation Services Agreement brings in a Rockwell Automation asset management expert to work on-site at the plant one day a month – freeing up plant staff to focus on core productivity issues. During scheduled visits, the onsite consultant helps manage inventory issues, conducts on-the-job training programs and evaluates monthly repair reports to determine trends, analyze costs and identify levels of spare parts usage.
In addition to the cost savings, a side benefit of the program is the increased confidence that comes with having a remote support group that is always available to the plant staff and can address any plant problem, even at the most inconvenient times.
"We now have confidence that any problem we encounter can be resolved in a timely fashion and parts will be on hand and readily available when we need them," Yanora said.
The improved inventory management helped the company virtually eliminate its emergency parts delivery issues and, because the Services Agreement has allowed the plant to upgrade its drives, drive reliability has improved dramatically, from one to two drive failures per month to just one in the last year. In addition, the company can reallocate the money it spent stocking unnecessary inventory to other business priorities.
"We're able to reduce our inventory costs because we're no longer buying sensors and drives until we need them." Yanora said. "This has allowed us to hold the line on maintenance costs, while still updating our equipment with the latest technology."
Equally important, the company now has a list of the sensors and drives it stocks and can provide this list of approved products to its OEMs when specifying new equipment. This has helped the plant standardize its equipment during several new installations in the last year.
Partnering with Rockwell Automation has helped the company streamline its spare parts inventory, improve equipment reliability and move to a more strategic maintenance approach. The combination of increased productivity and reduced inventory costs allows Pepsi Bottling to focus on higher priorities, such as bringing innovative product brands to market and meeting profitability goals.

This article is courtesy of Rockwell Automation. The results mentioned above are specific to Pepsi Bottling Group's use of Rockwell Automation products and services in conjunction with other products. Specific results may vary for other customers. Allen-Bradley, PowerFlex, Rockwell Automation and TechConnect are trademarks of Rockwell Automation Inc. For more information on Rockwell Automation products and services, visit www.ra.rockwell.com.