It was a Japanese manufacturing engineer named Shigeo Shingo who developed the concept that revolutionized the quality profession in Japan. Originally called "fool proofing" and later changed to "mistake proofing" or "error proofing" to avoid offending employees, poka-yoke (pronounced "poh-kah yoh-kay") translates into English as to avoid (yokeru) inadvertent errors (poka). The result is an operation that wastes less energy, time and resources doing things wrong in the future.
The main purpose of poka-yoke is to reduce defects from mistakes using the simplest and lowest-cost techniques possible. Poka-yoke is implemented by using simple objects like fixtures, jigs, gadgets, warning devices or paper systems to prevent people from making mistakes – even if they try to. These objects, known as poka-yoke devices, are usually used to stop the manufacturing process and alert the operator if something is about to go wrong.
Good poka-yoke devices, regardless of their implementation, share many common characteristics. For example, they are typically:
In essence, poka-yoke shows how finding mistakes at a glance helps to avoid defects. It is a simple principle that can be implemented by anyone at any time, and can lead to massive savings in both time and money.
Poka-yoke in practice
Poka-yoke is at its best when it prevents mistakes, not when it merely catches them. Since human errors usually stem from people who get distracted, tired, confused or demotivated, a good poka-yoke solution is one that requires no attention from the operator. Such a poka-yoke device will prevent the occurrence of mistakes even if the operator loses focus in what he or she is doing.
Nordson Corporation – one of the world's largest producers of precision dispensing equipment that applies adhesives, sealants and coatings during manufacturing operations – began incorporating poka-yoke devices into many of its product designs in 2001. The company's Adhesive Systems division continues to develop of innovative poka-yoke designs as part of its commitment to innovation, service and choice.
Poka-yoke is a critical component of lean manufacturing. Simplifying processes, reducing errors, associated waste and costs brings value to operations. In turn, customers who benefit from more efficient manufacturing and less downtime view value-added suppliers as "partners" rather than just interchangeable vendors.
In adhesive-dispensing operations such as packaging, general product assembly, the manufacture of disposable non-woven hygiene products and other industries, hot melt adhesive dispensing systems employ a wide range of components including dispensing guns manifolds and modules, nozzles, solenoid valves, melter filters and in-line filters – as part of a complete system solution and as consumable aftermarket parts. These components are designed with poka-yoke devices that help customers improve quality, avoid unnecessary mistakes on the production line and approach their goal of zero defects.
Patented features – including mated gun bodies and gun modules for easy installation, color-coded rings to identify product size and functionality, color-coded plastic covers to distinguish actuation and correct placement – are all simple poka-yoke devices that can reduce maintenance time and scrap due to incorrect component replacement.
What follows are some examples of Nordson products that incorporate the poka-yoke philosophy: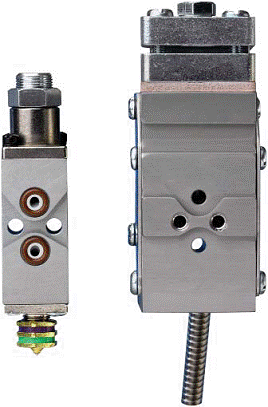 EasyOn matching surfaces
EasyOn Module Mounting
All Blue Series hot melt dispensing guns, including ClassicBlue, SolidBlue, SureBead and MiniBlue guns, incorporate an innovative EasyOn design for error-proof installation. With machined, mated, bowtie-shaped surfaces on the module and gun body, EasyOn mounting provides a guided, one-way fit.
As a result of this poka-yoke design element, it is impossible for an operator to mount the gun incorrectly. Mated surfaces allow the gun module to "hang" on the gun body during installation, making it easier for operators to install mounting screws and minimizing incidental contact with hot surfaces.
This simple, safe device also makes it easier to fit modules on gun bodies deep within machines where visibility is low.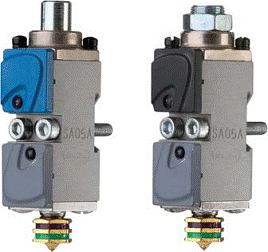 SolidBlue A and SolidBlue S modules
Color-Coded Plastic Covers on Gun Modules
Nordson SolidBlue and SureBead guns are available in two configurations, depending upon application needs. To easily distinguish between the two module types, color-coded plastic covers are used to identify gun actuation – blue covers denote air open/air close, while black covers denote air open/spring close actuation. This simple visual distinction assures correct replacement, speeds maintenance and also prevents any mixing of inventory. The plastic covers also offer a thermal barrier, protecting the operator from any incidental contact with the hot gun.
Saturn series products also incorporate a poka-yoke into their design. Here, simple, color-coded rings ensure fast identification, accurate replacement and easy troubleshooting of the spare part.

Color-coded nozzle
Nozzles
Hot melt equipment users often experience inconsistent bead deposition, poor cut-off and improper bead placement due to mismatched or incorrect nozzle sizes. Saturn nozzles use color-coded rings to visually identify orifice and engagement or orifice and angle. This simple poka-yoke device allows operators to select the correct replacement nozzle every time, eliminating downtime caused by incorrect or inferior nozzles.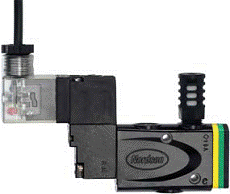 Saturn 3-way solenoid valve
Solenoid Valves
Used to actuate pneumatic hot melt adhesive-dispensing guns, Saturn solenoid valves supply air to open and close ball and seat and needle and seat gun modules. Color-coded rings identify solenoid voltage and airflow (Cv value) characteristics to simplify replacement and troubleshooting.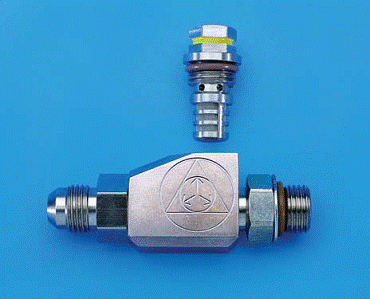 Saturn filter assembly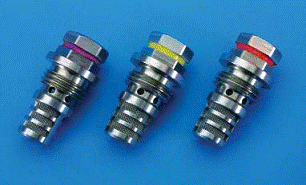 Saturn filter elements
In-line Filters
Adhesive char and contaminants can build up in, or be carried by hot melt hoses, resulting in nozzle clogging or dispensing gun failure. Saturn in-line filters installed between the hose and dispensing gun employ disposable filter cartridges to trap contaminants and prevent them from reaching the gun. A wide range of available adhesives and viscosities require disposable filter cartridges with various mesh sizes.
A Saturn color-coded ring facilitates quick visual identification of mesh size. Operators simply replace the filter cartridge using one with the same color ring.


Basket-style filter
Basket-style Filters in Adhesive Melters
In times past, contaminants and adhesive char in melters was removed by reverse flushing of the melter with solvents. Use of a basket-style filter minimizes the need for this time-consuming process. A color-coded Saturn ring on each filter identifies mesh size helping assure replacement with the correct filter.
These patented designs are CE-approved, UL- and CL-listed and are produced at ISO-certified Nordson manufacturing facilities.
The future of poka-yoke
Each of these poka-yoke devices delivers simple, a cost-effective method for improving productivity by reducing or preventing mistakes that can cause unwanted downtime.
What's the future for poka-yoke in hot melt adhesive dispensing?
Following the Japanese principle of "kaizen," or "continuous improvement," there really is no end to incorporating new designs into products to make them more user friendly and error free. Hot melt adhesive hoses with voltage and diameter identification; unique connectors, threads and assemblies; quick-change devices and single interchangeable platforms for gun bodies, modules and nozzles, to name a few, all offer the potential for improving manufacturing processes without adding cost or complexity.
The result of properly employed poka-yoke design is more efficient lean manufacturing, reduced defects, improved quality and increased customer satisfaction.
About the authors:
Kelli Crickey is a business development manager and Rick Pallante is a senior marketing manager with Nordson Corporation. For more information, visit www.nordson.com or call 800-683-2314.