Any chopper enthusiast knows there's a lot of bashin' and crashin' going on at Orange County Choppers (OCC), the country's best-known custom bike builder, spotlighted on the television series "American Chopper. "

But, today, there's a lot less crashing – well, none, actually – when it comes to the workstations that help OCC design and build their custom creations.
Now, high-performance Hewlett-Packard xw8400 workstations handle the rigors of complex 3-D modeling smoothly and reliably, giving OCC designers and engineers more freedom to do the things they want to do, just the way they want.
Removing creative roadblocks
Whether it's capturing the corporate feel of a large cola company or the quirkiness of a favorite movie character, each OCC bike must reflect the true personality of the person or company commissioning the job, down to the minute details that differentiate an OCC bike from any other.
That means a lot of time and talent goes into every computer-generated drawing OCC creates to engineer each of the many custom components that goes into every bike – and a lot of sleepless nights for OCC's senior designer, Jason Pohl, when the company's former non-HP workstations began to buckle under the pressure.
"They were overheating and crashing and we couldn't find a workstation with enough power and strength to get us through a project seamlessly," says Jason, who teams with Paul Teutul Jr. ("Paulie"), oldest son to OCC founder Paul Sr., on every OCC project. "We do a lot of multi-tasking, with four or five different design applications open at once, and our previous workstations just couldn't handle it. During one project, we worked on a part for about four hours when the workstation crashed and everything was lost."
HP Workstations perform reliably even under the most demanding and intense workloads. Now, OCC runs eight to 10 different applications at once – constantly moving back and forth between them over the course of the design cycle – removing roadblocks in the creative process.
HP xw8400 Workstations prove their mettle at OCC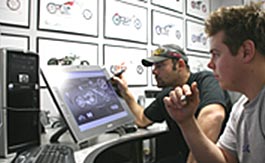 Paul Jr. and Jason at an HP workstation
(Photo Credit: Orange County Choppers)


"Now, we can jump from one design aspect to another when inspiration hits, without having to close and reopen applications," Jason says. "If we want to work on the wheels, we work on the wheels, and if Paulie says, 'I've got a great idea for the mirrors,' BAM! I can switch to working on the mirrors. So, we get to dabble in every little aspect of the bike and spend equal time on each part to make sure it comes out exactly as we envisioned."
Speeding the pace of business
Not only do HP workstations keep the design process flowing, they keep the whole business flowing – from concept, engineering, fabrication and milling to marketing, shipping and sales – integrating and streamlining operations throughout.
"HP technology is really deeply embedded into our entire company," says Paulie. "Everyone uses an HP workstation, so everyone is on the same page, which definitely speeds things up."
In fact, OCC estimates the streamlined workflow reduces time-to-market for its choppers by at least 50 percent.
With HP technology in all aspects of the business, OCC also manufactures more parts in-house. It's a vision Paul Sr. had almost from the beginning of the company in 1999. In keeping with his hands-on working style, his goal was to gain more control over the build process.
"When we first started, we sent out 40 to 50 percent of the work. Now, we fabricate close to 90 percent of our bikes in-house," Paulie says. "So, when we're ready to build, we not only get the parts on time, we get them right, which gives us the utmost quality control."
A really great ride
Paul Sr. and his youngest son, Mikey, recently joined Paulie on a tour of HP's Houston facility, seeking design inspirations for a custom-built HP motorcycle for an upcoming "American Chopper" program.
Will it tie into the HP "Personal Again" theme? That would certainly be fitting, with OCC being known for its own personalized creations.
Only time will tell, because Paulie and Jason won't say much about it, opting for that element of surprise when the bike is finally revealed on "American Chopper" this spring.
"We'll tell you this," Paulie says. "The bike has a very modern, high-tech feel to it, but it's also somewhat elegant. It's going to be very cool – a museum piece. We're excited to do this type of thing for such a big company. Working with HP has been a great experience for us. It's been a really great ride."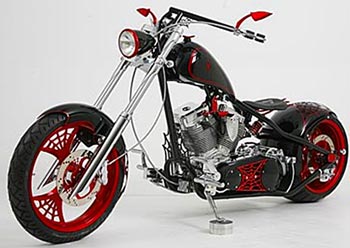 This Black Widow bike was designed for production on an HP xw8400 workstation and was part of a design contest between Paul Sr. and Paulie in the season's opening episode.