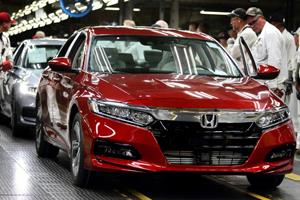 Honda of America Mfg. recently announced that it will be investing $267 million and adding 300 new jobs to increase production at its auto plant in Marysville, Ohio, and support production of the new Honda Accord.
The investment will provide $220 million at the Marysville Auto Plant (MAP) for new technologies and processes, including a new $165 million weld department featuring 342 state-of-the-art welding robots and $47 million at Honda's nearby engine plant in Anna, Ohio, for production of the 2018 Accord's 1.5-liter and 2.0-liter turbocharged engines.
Other new technologies applied to the manufacture of the Accord at MAP will include a laser brazing process for the Accord's roof and new stamping techniques to produce a more sharply sculpted body. In addition, Honda will debut the use of high-performance structural adhesives for improved body rigidity and the application of acoustic spray foam for enhanced cabin quietness. MAP has also added a new sub-assembly process for the Intelligent Power Unit that will help power the new Accord Hybrid, which will return to production in Ohio.
"The new jobs and production growth will enable us to meet anticipated strong demand for the new Honda Accord," said Rob May, MAP plant manager. "Re-imagining the new Accord and bringing it to life took an incredible effort by our project team and our associates."
The Accord has been in continuous production at the Marysville Auto Plant (MAP) since November 1982, with cumulative U.S. production exceeding 11 million units over 35 years.
The new 10-speed automatic transmission (10AT) will be produced at the Honda transmission plant in Tallapoosa, Georgia. The company recently announced a combined $149 million investment in the Russells Point, Ohio, and Tallapoosa plants to facilitate production of the new 10AT.
For more information, visit www.honda.com.