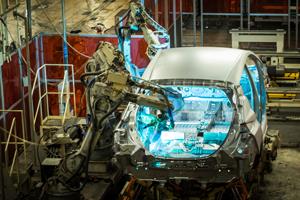 Nissan recently announced plans to start full production on the new Leaf electric vehicle at its assembly plant in Smyrna, Tennessee, later this year.
The next-generation Leaf, which will go on sale in the United States in the coming months, will feature greater range, advanced technologies and a new design.
"Nissan Smyrna has been the U.S. home of the Leaf since 2013, and we are honored to continue to assemble the most popular electric vehicle in the world," said Heath Holtz, vice president of manufacturing at the Nissan Smyrna Vehicle Assembly Plant.
The Smyrna plant has an annual production capacity of 640,000 vehicles and currently produces six models: Altima, Leaf, Maxima, Pathfinder, Rogue and the Infiniti QX60. Since opening in 1983, the facility has assembled more than 12 million vehicles.
Nissan also plans to begin production on the Leaf at its manufacturing plant in Sunderland, U.K., by the end of 2017. The U.S. and U.K. production sites join Nissan's Oppama Plant in Japan, which is currently producing the new generation of the electric vehicle.
"We're proud to continue manufacturing the Nissan Leaf at three plants globally," said Fumiaki Matsumoto, executive vice president of Nissan Motor Co. "Nissan employees in Oppama, Smyrna and Sunderland are excited to continue producing the most popular electric vehicle in the world."
For more information, visit www.nissan-global.com.