Lockheed Martin Begins Construction on New Satellite Production Facility
Tags:
manufacturing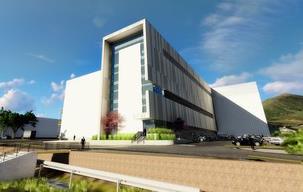 Lockheed Martin recently announced that construction has begun on a new $350 million facility near Denver that will produce next-generation satellites. The facility, which is located on the company's Waterton Canyon campus, is slated for completion in 2020.
The new Gateway Center will feature a state-of-the-art high-bay clean room capable of building a spectrum of satellites from micro to macro. The facility's paperless, digitally enabled production environment will incorporate reconfigurable production lines and advanced test capability. It will include an expansive thermal vacuum chamber to simulate the harsh environment of space, an anechoic chamber for highly perceptive testing of sensors and communications systems, and an advanced test operations and analysis center. The facility will also be certified to security standards required to support vital national security missions.
"This is our factory of the future — agile, efficient and packed with innovations," said Rick Ambrose, executive vice president of Lockheed Martin Space Systems. "We'll be able to build satellites that communicate with front-line troops, explore other planets and support unique missions. You could fit the Space Shuttle in the high bay with room to spare. That kind of size and versatility means we'll be able to maximize economies of scale, and with all of our test chambers under one roof, we can streamline and speed production."
With more than 4,000 employees, Lockheed Martin's Waterton Canyon campus has a wide range of design, manufacturing and test facilities onsite. Spacecraft currently in production at the site include the Air Force's GPS III satellites, NASA's InSight Mars lander, NOAA's GOES-R Series weather satellites and commercial communications satellites.
For more information, visit www.lockheedmartin.com.