In the Reliability Forum department of Reliable Plant magazine, companies provide their insights to a question posed by editor Paul V. Arnold. This issue, the call went out to manufacturers of bearings. These companies were asked:
"In your opinion, what are the most common mistakes end-users make when lubricating bearings?"
The best response was provided by David A. Pierman, the product manager of industrial lubricants and delivery devices at the Timken Company. His reply follows.
"There are three lubrication mistakes that we see time and time again: not enough lubrication, too much lubrication, and the wrong type or grade of lubrication.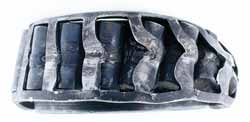 Inadequate lubrication led to a total bearing lock-up.
"Insufficient grease lubrication commonly occurs when grease is improperly packed and does not get between the rollers, or when too little is added to properly fill the housing. With oil lubricants, a shortage is common when failing to fill to the required level that would allow the bearing to dip into the oil. Either condition can lead to lubricant starvation and subsequent bearing damage due by overheating from roller scoring.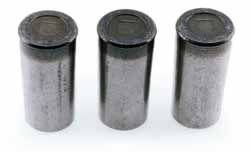 Inadequate lubrication led to cone large rib face deformation.
"When too much lubricant is used, especially in higher-speed applications, the excessive churning of the lube can generate as much heat as not having enough.
"Finally, using the wrong type or grade of lubricant could result in early fatigue, damage or even burn-ups. Too light of a viscosity could result in a thin film, and too high of a viscosity can lead to elevated temperatures, degrading the lubricant, reducing fatigue life and leading to other potential bearing or application problems.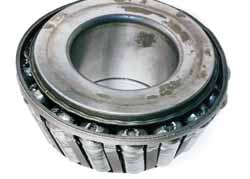 Inadequate lubrication led to cone large rib face scoring.
"When selecting and/or using a lubricant, we recommend seeking the support of a bearing specialist to ensure the proper procedures are followed to optimize performance."
Learn more at www.timken.com.